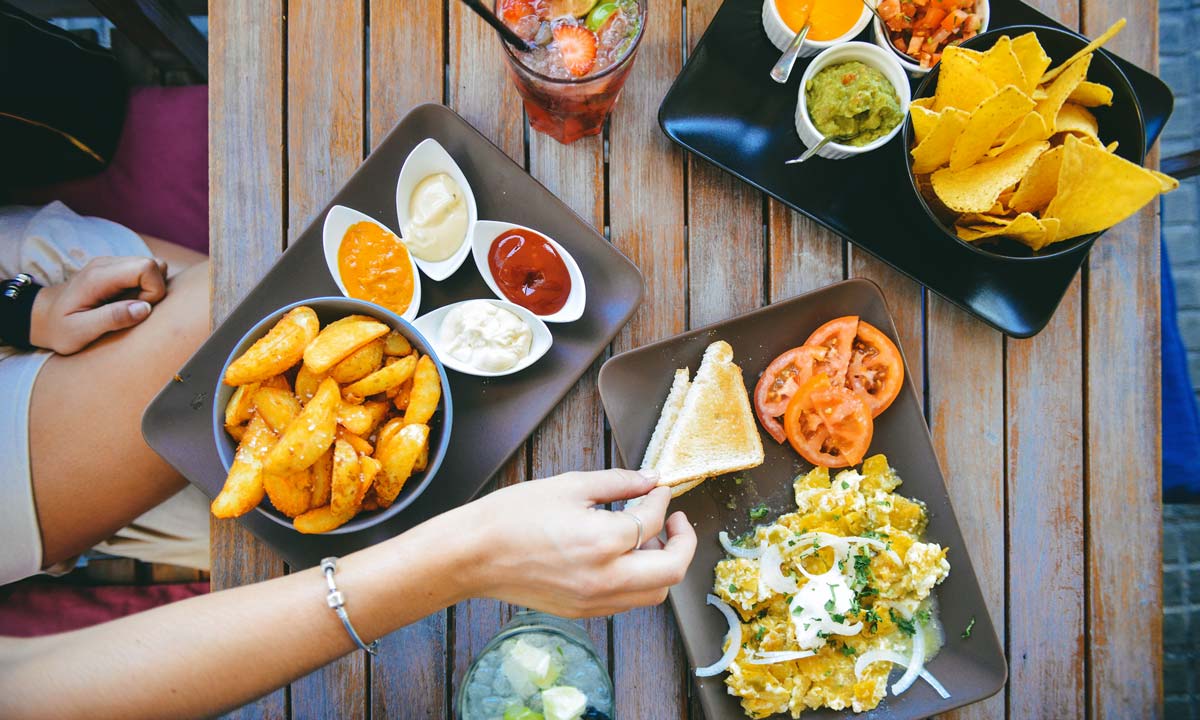 Buy affordable restaurant

endorsement online in

less than 5 minutes
No paperwork.
Instant coverage.
No-commitment quote.
What is a restaurant endorsement?
A restaurant endorsement isn't just one coverage. Instead, it's a bundle of useful coverages which are sold together (usually as an add-on to a business owner's policy) and which protect your restaurant or bar in a variety of unexpected situations. It's a pretty big bundle, too: It includes coverages you hear a lot about—such as spoilage coverage and food contamination insurance—as well as several coverages you might not have heard about but likely need, anyway. All of that adds up to a lot of coverage that could really help your restaurant out in a bad situation.
For example, what happens if a storm knocks out the power to your freezers and all your food stock spoils? Spoilage insurance will cover it. What if a customer gets sick and your restaurant is closed by the city because they suspect your food isn't safe to eat? Food contamination coverage will kick in to help you reset, fix the problem, and get your good reputation back. And what if a health inspector tells you that your refrigerators aren't compatible with the Clean Air Act and that you'll need to convert all of them to a new refrigerant? How will you cover the costs of the updates? That's where ordinance and law coverage comes in handy.
All in all, a restaurant endorsement is a great idea for a lot of restaurants, and it's easy to add it to your business owner's policy from Huckleberry. Get a quote here.
Does your business need a restaurant endorsement?
If you own a restaurant, getting a restaurant endorsement is a good investment. Not only does it cover the major things you worry about (think: broken refrigerators and a state-enforced contamination shutdown), but it covers a lot of smaller situations that can be a huge pain if you're not prepared. If you run a restaurant, you likely don't have the time or resources to worry about replacing inventory after a power outage (or repairing the locks after someone breaks into your office). Once you purchase a restaurant endorsement, you'll have the peace of mind that comes from knowing you're protected against the most common issues restaurants face.
What's covered as part of a restaurant endorsement?
Let's take a look at the coverages included as part of your restaurant endorsement:
Spoilage Coverage will pay out to help you replace perishable foods or beverages that go bad during a power outage or other covered event.
Food Contamination Coverage steps in to provide your restaurant with the resources it needs to recover from a contamination-related shutdown. It'll help you replace contaminated food and clean affected equipment (and it might even help pay for advertising to help your business regain its reputation).
Reward Payment Coverage will help you afford a reward payment if you need to offer one to get stolen property or goods back.
Brands and Labels Coverage can reimburse you for food damaged under certain covered circumstances.
Ordinance or Law Equipment Coverage can help pay the cost of retrofitting your refrigeration equipment (and changing out the refrigerant) if it doesn't meet local health standards.
Lock Replacement Coverage will pay out to help you replace your locks if they're ever damaged for a covered reason.
Delivery Errors and Omissions Insurance will pay out to cover damages (and legal expenses) if a delivery made by your restaurant goes wrong for a covered reason.
Merchandise Withdrawal Coverage will help cover your losses if you ever have to recall your food product.
Put simply, when added to a business owner's policy (which includes general liability and property coverages), this package covers many of the issues you might encounter when running a small restaurant. (Word to the wise, though: if your restaurant sells alcoholic beverages, be sure to add liquor liability, too.)
Restaurant endorsement by state
How much is business insurance for a restaurant?
Restaurant insurance is an add-on endorsement to a business owner's policy and your rate will depend on your restaurant's specific situation (as well as the levels of coverage you select). The best way to find out what you'd pay for restaurant coverage is to get an estimate from Huckleberry here. (Don't worry, it's just a few easy questions.)
Why get restaurant endorsement from Huckleberry?
Here are a few reasons to purchase your restaurant endorsement from us:
It's so, so fast. We've streamlined the process (and it's completely online).
It's affordable. You'll probably pay less.
Zero paperwork. You'll handle everything through our online business insurance portal.
Everything is in simple English (just like this page). It's our specialty.
Common questions about restaurant endorsement
No, you're not legally required to get a restaurant endorsement, but it's a good idea to purchase one anyway. Without these coverages, you'll be left paying out-of-pocket when disaster strikes—and it won't matter whether you can afford it or not. A restaurant endorsement is a good investment for most restaurants and will likely pay for itself if you ever have to make a claim. (Luckily, it's easy to get a Huckleberry quote for a business owner's policy with restaurant insurance. All the questions are pretty straightforward.)

The coverages you need depend on your unique situation and what kinds of emergency expenses you'd like to avoid. That said, just about every restaurant should consider getting a restaurant endorsement. It provides two of the most commonly-used coverages—food contamination coverage and spoilage insurance—as well as a host of other coverages for situations we hope you'll never have to face (but likely will face someday, anyway).

In addition to the restaurant insurance package, we highly recommend a liquor liability policy for restaurants that serve alcohol. It can save you from significant legal costs if you're ever sued because of what your customer did while intoxicated.

Also, almost every restaurant needs a business owner's policy to cover their property and liability risk. And, finally, if you have employees, you almost certainly need workers' compensation insurance (which is required just about everywhere).

Huckleberry offers all of these coverages—and everything's online and easy. Tap here to get an estimate on what you'd pay for the protections you need.
Don't take our word for it
Get a quote in five minutes.
Everything's online. Everything's easy. Tap the button to get started.