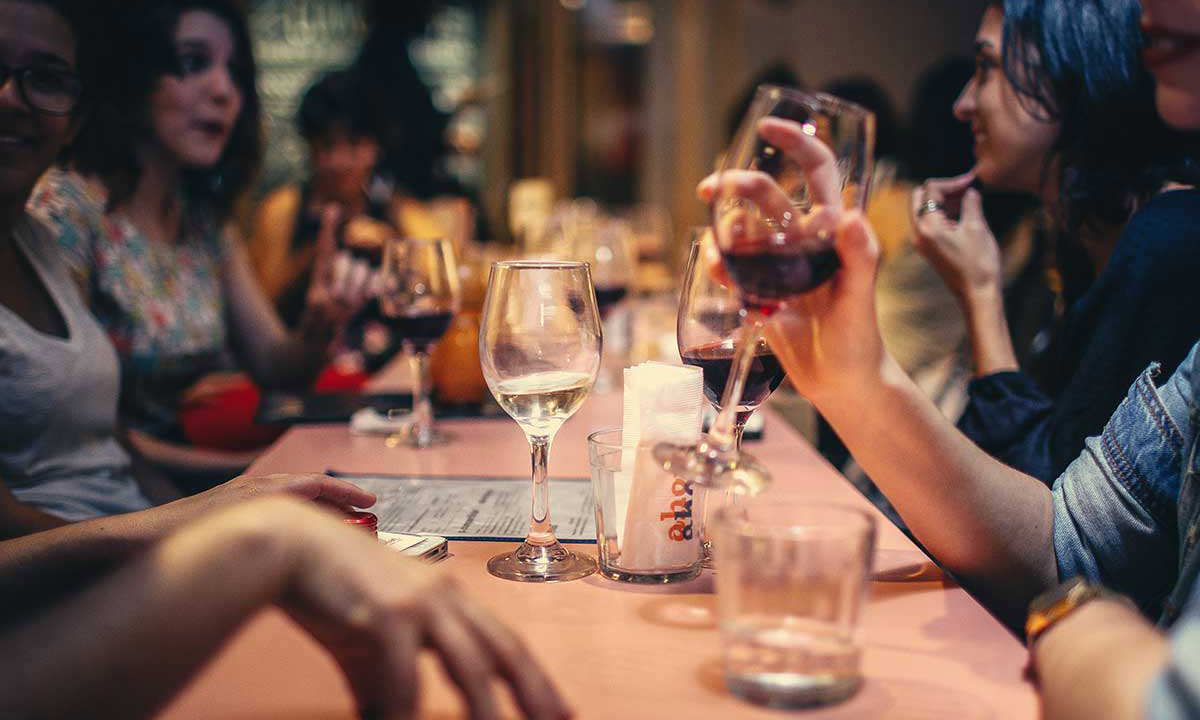 Buy affordable liquor

liability insurance online in

less than 5 minutes
No paperwork.
Instant coverage.
No-commitment quote.
What is liquor liability insurance?
Liquor liability coverage protects a very specific kind of small business—the kind that makes any kind of profit from alcohol. Basically, if you ever sell alcohol to a visibly intoxicated person—who then causes damage to someone or something else—liquor liability insurance will pay out to cover your legal expenses (as well as any medical expenses and property damage you're liable for).
For example, let's say you run a small restaurant and have just finished training a new weekday bartender. A few hours into your bartender's first shift, though, he gets a little carried away laughing with some customers and gets pressured into giving a bar regular—who is clearly just a little too happy—"just one more drink." That customer then attempts to drive home while intoxicated and runs his car into a convenience store, smashing the plate glass window and causing $70,000 worth of damage to the contents of the building.
You and your business are now liable for that damage. That's because your employee made the decision to sell this customer more drinks, even though it was obvious that the man was already intoxicated. The owner of the convenience store can now sue you for financial damages, and, if you don't have liquor liability coverage, you'll be on your own when it comes to paying the legal bills and damages.
Long story short: if your business sells alcohol, you should definitely consider a liquor liability policy. It'll protect you from having to fight a costly lawsuit on your own (and it might even save your small business). Fortunately, liquor liability is easy to add to a business owner's policy, and Huckleberry can get you covered here. It's all online and easy.
Does your small business need liquor liability insurance?
If you sell alcohol, you should purchase a liquor liability endorsement. Why? Well, though general liability policies are great, they don't cover the unique risks that come from selling alcohol. And if you don't purchase liquor liability coverage, you'll potentially be on the hook for a huge bill whenever you serve a customer a little too much to drink. Ultimately, going without a liquor liability policy just isn't worth the risk to your business. (Calculate your rate on a business owner's policy with liquor liability coverage.)
What does liquor liability insurance cover?
Liquor liability insurance protects your business if you ever serve alcohol to a visibly intoxicated person who then goes on to cause damage to someone or something else. It'll pay out to cover your legal fees and financial settlement and could also help pay for any related medical expenses or property damage. It might also cover an assault and battery claim if the intoxicated customer attacks someone else and then the attacked person sues your business. (Yes. It happens.)
Overall, liquor liability is a pretty important insurance endorsement for any business that makes money from alcohol sales. And you can get an estimate on a business owner's policy with a liquor liability endorsement here.
Liquor liability insurance by state
How much is liquor liability insurance?
The cost of purchasing liquor liability coverage is based on a bunch of factors, such as your location, your industry, and your claims history—the fewer insurance claims you've made, the less expensive your liquor liability endorsement will be. Another big factor is how much liquor your business actually sells. (If you run a small corner store that doesn't sell much alcohol, you'll probably pay less than the local bar that sells hundreds of drinks every night.)
So your rate depends completely on your situation, and the best way to figure out what you'd pay is to calculate your rate. (Don't worry—the questions are easy.)
Why get liquor liability from Huckleberry?
Great question. Here's why you should get your business insurance quote online from Huckleberry:
It's much faster than getting insured through a legacy insurer.
No paperwork required. It's all online.
Decisions are simple. We explain everything in plain English.
You'll probably pay less. Maybe a lot less.
Common questions about liquor liability insurance:
Possibly, but it depends on where you're located. In some places, you're legally required to show proof of liquor liability coverage before you can get your liquor license, so check with your local authorities to see what the rules are in your area.

But even if liquor liability isn't mandatory where you are, consider buying it anyway. The best training and employee education in the world can't completely mitigate the legal risks of selling alcohol, and buying liquor liability coverage could save you from an expensive lawsuit which could devastate your business.

Your rate for liquor liability coverage is primarily based on four factors. The first is the amount of alcohol you sell—a store where liquor makes up only 10% of sales volume will pay less than a store on the same block where liquor products represent 40% of sales. Your industry and location will play a role in your rate, too. (A caterer in Cleveland will likely pay a very different rate for liquor liability than a wine bar in San Francisco!) And, finally, your claims history will make a significant difference in how much you pay. If you've run your restaurant for twenty years without a single liquor liability claim, you probably won't pay too much for your coverage.

But that's just the formula. The big question is exactly what you'd pay to get a business owner's policy with liquor liability. And, to answer that, you'll need to get an estimate from Huckleberry.
Don't take our word for it
Get a quote in five minutes.
Everything's online. Everything's easy. Tap the button to get started.