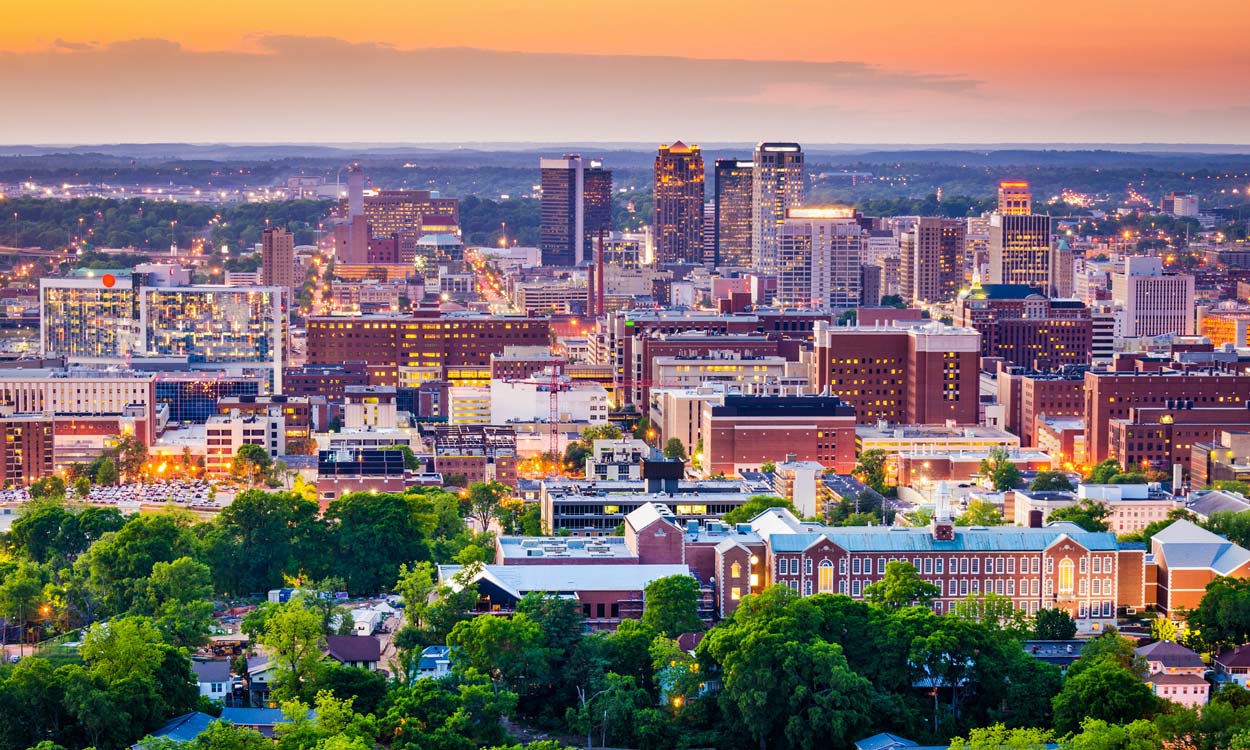 Buy affordable small business

insurance in Alabama, online

in less than 5 minutes.
No paperwork.
Instant coverage.
No-commitment quote.
Small business insurance in Alabama
Small business is serious business in Alabama. The Cotton State is home to 396,432 small businesses which provide jobs for a staggering 789,425 people (or 47.2% of private sector employees). As an entrepreneur in Alabama, you can be proud knowing you're such an integral part of the economic climate—and you need the best small business insurance to keep the momentum going. Huckleberry can get your business the protection it needs in about the same amount of time it takes to make a cup of coffee. And the form is all online—simple and easy.
The most common types of small business insurance in Alabama
Workers' comp will protect your employees if they ever experience an illness or injury caused by their job. It'll cover wage loss, medical costs, and rehabilitation.
A business owner's policy is a combination of necessary coverages that protect your business in several circumstances. It contains business interruption insurance, general liability insurance, and property coverages.
General liability insurance pays out legal fees and settlement costs if a third party sues your company for bodily injury or damage of property.
Business property insurance pays out to repair or replace your building if it's damaged or destroyed for a covered reason. (Meanwhile, business personal property insurance reimburses you for the objects inside your building.)
If you ever have to put a temporary hold on business operations for a covered reason, business interruption insurance is there to help with ongoing costs (like taxes and payroll) as well as emergency costs (like a temporary worksite).
How much do Alabamians pay for small business insurance?
The median cost of Alabama workers' comp for Huckleberry customers is $1,247 per year. For general liability, it's $1354—and for a BOP (business owner's policy), it's $812.
Bear in mind that these numbers will probably not be your numbers. You could pay higher or (much) lower premiums for Alabama business insurance depending on a number of important factors (such as your industry, your location, and how many people work for you). The easiest way to find out what your premium would be is to get an estimate from our 60-second insurance rate calculator here.
Other coverages you can add to your Alabama policy
The most common industries getting small business insurance in Alabama
Landscaping & Lawn Care
Commercial Cleaning
Heating & Air Conditioning
4 reasons why business owners in Alabama love Huckleberry
It's fast. Most businesses get the coverages they need in 5 minutes flat.
It's easy. We lay out all the details in plain English.
It's affordable. There's a good chance your premium will be much lower.
It's paperwork- free. Everything you need is in our online business insurance portal.
Don't take our word for it
Get a quote in five minutes.
Everything's online. Everything's easy. Tap the button to get started.