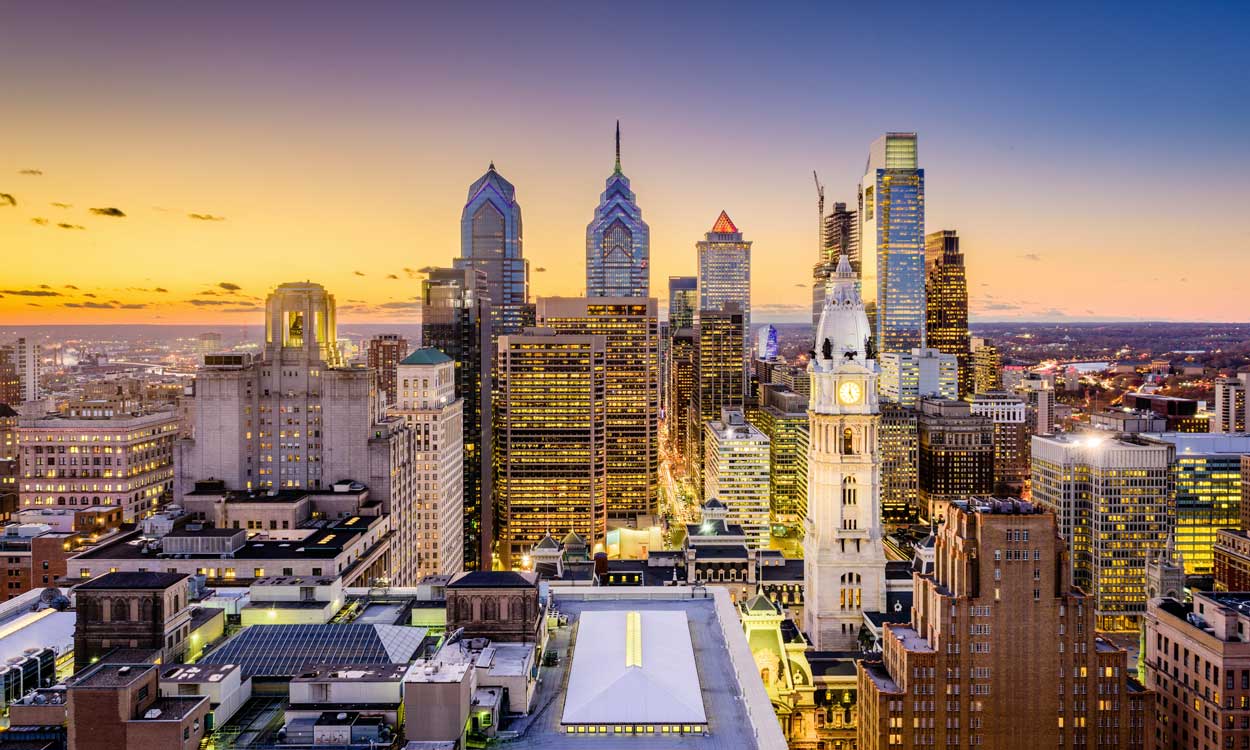 Buy affordable general

liability insurance online

in less than 5 minutes
No paperwork.
Instant coverage.
No-commitment quote.
General liability coverage and benefits
General liability insurance protects your small business if someone outside your company sues you for property damage, bodily injury, or advertising damage. It's one of the most important coverages that a small business owner in Pennsylvania can purchase, especially since you're pretty likely to be sued—more likely than you might think. (Consider the fact that 40% of small businesses will face a liability claim in the next ten years. Yes, really.) And, if you do find yourself on the receiving end of a lawsuit, the consequences could cost your business hundreds of thousands of dollars.
Let's take an example: imagine that a customer is visiting your business and, as they're leaving, they trip over a box on the floor and fall onto a sharp object. After a trip to the emergency room, they visit your lawyer and, two weeks later, you get an official letter. The injured customer is suing your business for $250,000.
Now, the question is: do you have general liability coverage? If you do, your insurer will step in to provide you with legal support and to cover the cost of a lawyer and settlement. (A huge relief!) If you don't have general liability coverage? Well, now you have a problem on your hands. You'll need to fight this lawsuit on your own, which can be incredibly costly and time-consuming. Without general liability insurance, you'll pay the entire cost of a lawyer and a financial settlement out-of-pocket—and it won't matter whether you can afford to pay.
Long story short: general liability coverage could save your business. It's not legally required in Pennsylvania, but it's a good idea to have anyway—and many big clients won't give you a contract unless you can show proof of liability coverage.
That's why most companies in Pennsylvania get general liability, and many of them get it as part of a Business Owners Policy. It's important protection for just about every small business, and you can get a 60-second cost estimate here. (No obligation. Super easy.)
How much is commercial general liability insurance in Pennsylvania?
The cost of general liability in Pennsylvania depends on a variety of factors, such as the kind of business you run and your location. A quick reference amount, though: the median premium cost that Huckleberry customers pay for general liability is $750, but some of our Keystone State customers have paid as low as $528 per year—less than $2 per day. (Way less than the cost of a lawsuit.)
Your rate depends on your situation, though, and your price could be higher or lower. (Tap here to calculate your 60-second estimate on what you'd pay for Pennsylvania general liability.)
Most common industries getting general liability insurance
Landscaping & Lawn Care
Commercial Cleaning
Heating & Air Conditioning
4 reasons to buy general liability insurance from Huckleberry
You'll probably pay less for your liability coverage.
No paperwork. Everything is in our simple online portal.
Easy decisions. We explain everything.
It's fast. 95% of Pennsylvania customers get the general liability coverage they need in five minutes.
Common questions about general liability in Pennsylvania
No, general liability isn't a requirement for small businesses in Pennsylvania—but you should consider getting it anyway. Most small companies don't have the time and cash to fight a lawsuit on their own, so a liability claim at the wrong time can quite literally force a business to close its doors. (It happens.)

Also, while general liability isn't required by the state, you should know that it's often required by big clients before they'll sign a contract with you. (And this makes sense. They don't want you suddenly going out of business because of a liability claim.)

Your small business has a 40% chance of facing some kind of lawsuit within the next decade. And, if you do get sued, you'll need to pay to defend yourself, pay for lawyers and court costs, and pay for any financial settlements. Plus, you'll need to devote significant amounts of your time to the legal process. All of that is expensive. Very expensive.

So, if you don't have lawyers on staff (or the cash on hand) to fight a lawsuit on your own, you should strongly consider buying general liability for your company. It only takes five minutes.

You're probably eligible anyway—most small businesses are. To find out whether your company can get general liability insurance, answer a few simple questions here. (It only takes 60 seconds.)
Don't take our word for it
Get a quote in five minutes.
Everything's online. Everything's easy. Tap the button to get started.