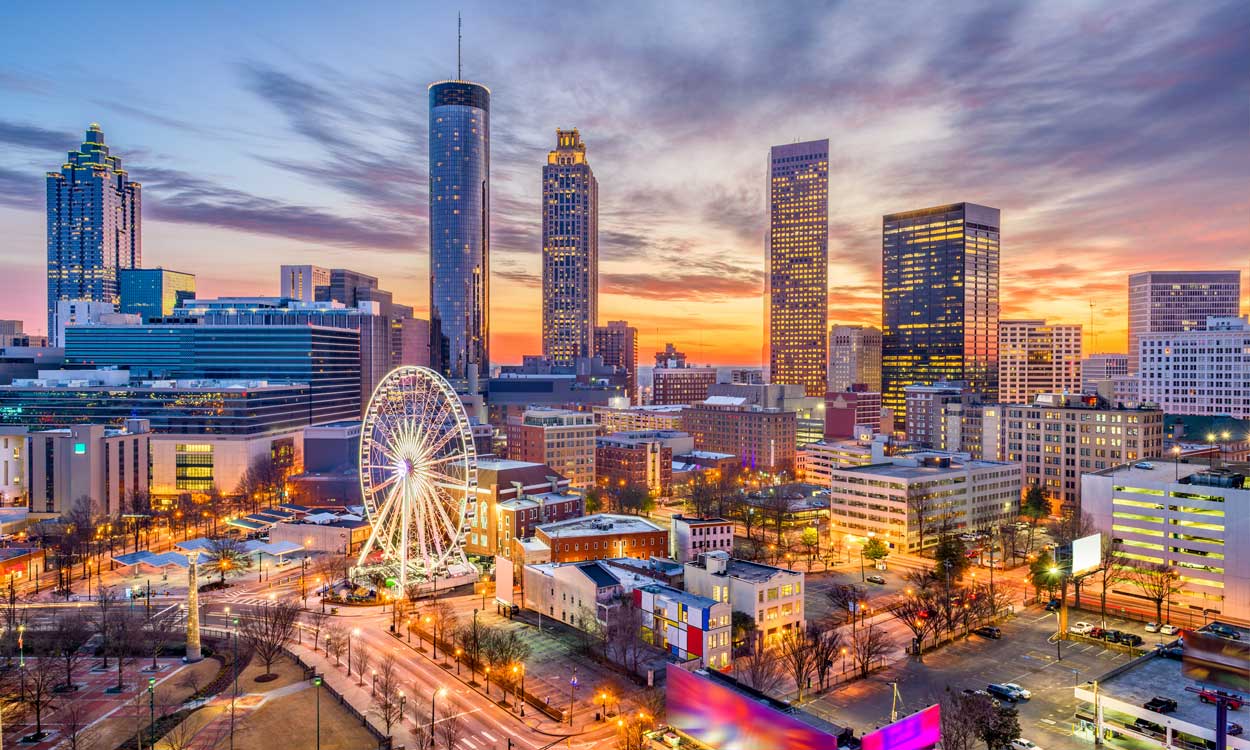 Buy affordable small business

insurance in Georgia, online

in less than 5 minutes.
No paperwork.
Instant coverage.
No-commitment quote.
Small business insurance in Georgia
Georgia is a great state for entrepreneurship, and is home to 1.6 million small businesses. In fact, small businesses in the Peach State created just over 71,000 jobs in 2016 —and 40,000 of those jobs were created by companies with fewer than 10 employees. All in all, a walloping 43% of private employees in Georgia get their income from a small company. So if you're a small business owner in Georgia, you're a major part of the state economy, and you need the best small business insurance to keep your company protected.
Huckleberry can get you covered in about 5 minutes. It's an online process and the whole thing is super easy (we explain everything in plain English).
The most common types of small business insurance in Georgia
Workers' comp pays out to cover your employees if they ever have a health problem because they work for you. It'll cover medical treatment, rehabilitation, and lost wages while your employee recovers.
A bundle of important policies that protect your business in unforeseen circumstances. A BOP generally includes property insurance, general liability, and business interruption insurance.
If someone ever sues your company for damage or injury, general liability insurance steps in to help cover your legal expenses and settlement.
Business property insurance covers your building (in case it's ever damaged or destroyed), and business personal property insurance covers the important stuff you have inside your building
Business interruption coverage can help keep your business afloat if it's ever forced to close for a covered reason. The policy covers major fixed costs—such as payroll and taxes—and might even cover the cost of a temporary location while you're working to get things back to normal
How much do Georgians pay for small business insurance?
First, the numbers: the median premium cost that Huckleberry customers pay for Georgia workers' comp is $1,547 per year. (For general liability coverage, the median cost is $700. And for a Business Owner's Policy—which includes general liability bundled with some other policies you'll likely need—the median price in Georgia is $750).
But it's important to remember that rates vary a lot. Your price will fluctuate based on where your business is, what industry you're in, and how many employees you have. Long story short: your rate could be higher or much lower than the median, and the fastest way to find out what you'd pay for small business insurance is to get a 60-second estimate. (No obligation. Free. And it seriously takes under a minute.)
Other coverages you can add to your Georgia policy
The most common industries getting small business insurance in Georgia
Landscaping & Lawn Care
Commercial Cleaning
Heating & Air Conditioning
4 reasons why business owners in Georgia love Huckleberry
It takes 5 minutes to get covered. (Getting a quote from a legacy insurer can take weeks.)
Simple decisions. We explain everything in language you'll understand.
You manage your policy on our online business insurance platform. No paperwork.
There's a good chance you'll pay a lot less for the coverages you need.
Don't take our word for it
Get a quote in five minutes.
Everything's online. Everything's easy. Tap the button to get started.