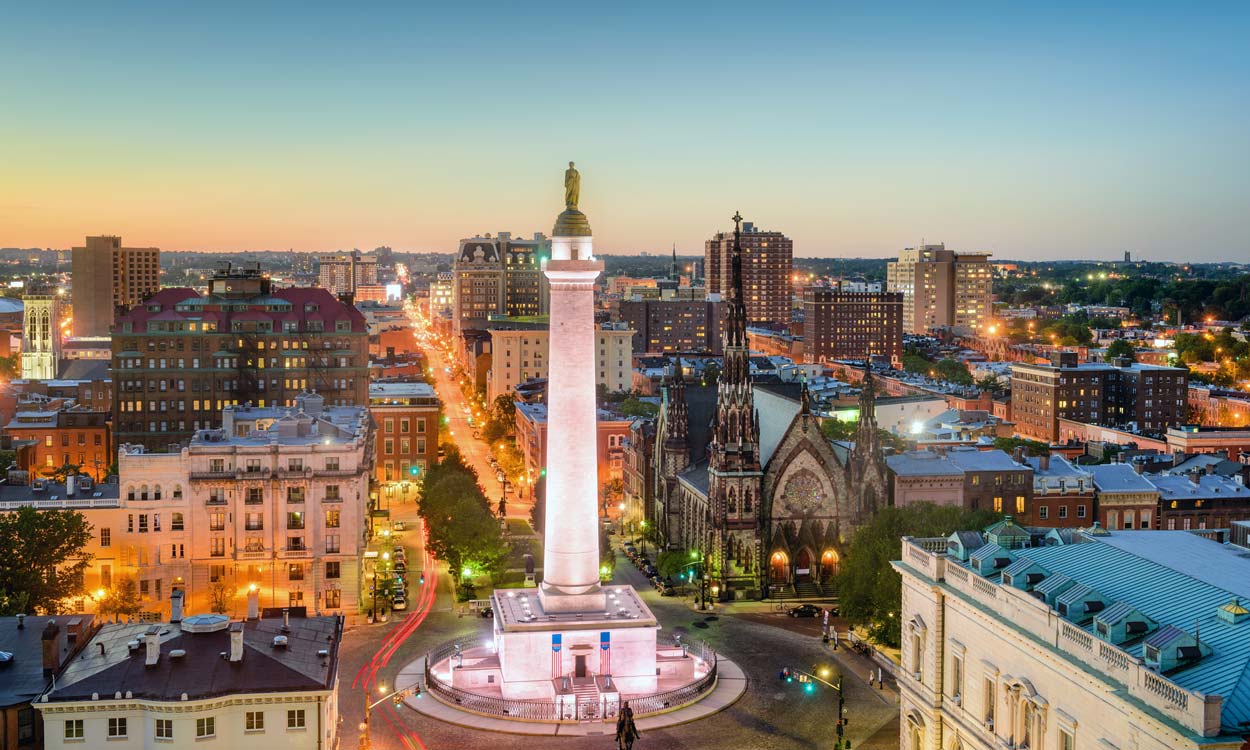 Buy affordable small business

insurance in Maryland, online

in less than 5 minutes.
No paperwork.
Instant coverage.
No-commitment quote.
Small business insurance in Maryland
Maryland is an ideal place for entrepreneurs. Not only did Maryland's small companies create 37,604 employment opportunities in 2016 alone—but its 594,124 small businesses employ 1.1 million workers. That's a whopping 50.1% of private sector employees in Maryland who earn their paycheck at a small business. So, if you're an entrepreneur in the Old Line State, know you're an important part of the state's economic growth, and you need the best small business insurance to keep your business in the game.
The most common types of small business insurance in Maryland
Workers' comp takes care of medical bills or lost wages if an employee suffers illness or injury because of their job.
A package of vital coverages that protects your business in unpredicted situations. It includes property insurance, business interruption insurance, and general liability.
General liability insurance takes care of your legal costs if a client claims your company harmed them (or harmed something which belongs to them).
Business property insurance covers your building (if it's ever damaged for a covered reason), and business personal property covers what's inside your building.
Business interruption insurance helps keep your business solvent if you ever have to pause operations for a covered reason. It covers important fixed costs (like taxes and loan payments) and can also pay out for emergency costs (like moving your business operations to a temporary site).
How much do Marylanders pay for small business insurance?
First, let's talk about general premium stats. Huckleberry customers in Maryland pay a median of $894/year in workers' comp premiums. For general liability coverage, the median price is $650. And for a BOP (or business owner's policy)—which bundles liability and property insurance—the median cost for Marylanders is $750.
Consider, though, that these examples might not be what you would pay. That's because no two businesses are exactly alike, and each business has different insurance needs. For example, factors such as your business's location, industry, and team size will affect the rate you pay for small business coverage. So, you could be looking at Maryland business insurance premiums that are higher or much lower than the median.
The fastest way to know for sure? Get a 60-second estimate from our worker's comp calculator. (There's no commitment. It's free and crazy fast.)
Other coverages you can add to your Maryland policy
The most common industries getting small business insurance in Maryland
Landscaping & Lawn Care
Commercial Cleaning
Heating & Air Conditioning
4 reasons why business owners in Maryland love Huckleberry
It takes 5 minutes to get covered. (Getting a quote from a legacy insurer can take weeks.)
Clear decisions. We explain everything as simply as possible.
You manage your policy online. No paperwork to worry about.
There's a good chance you'll pay a lot less for the coverages you need.
Don't take our word for it
Get a quote in five minutes.
Everything's online. Everything's easy. Tap the button to get started.