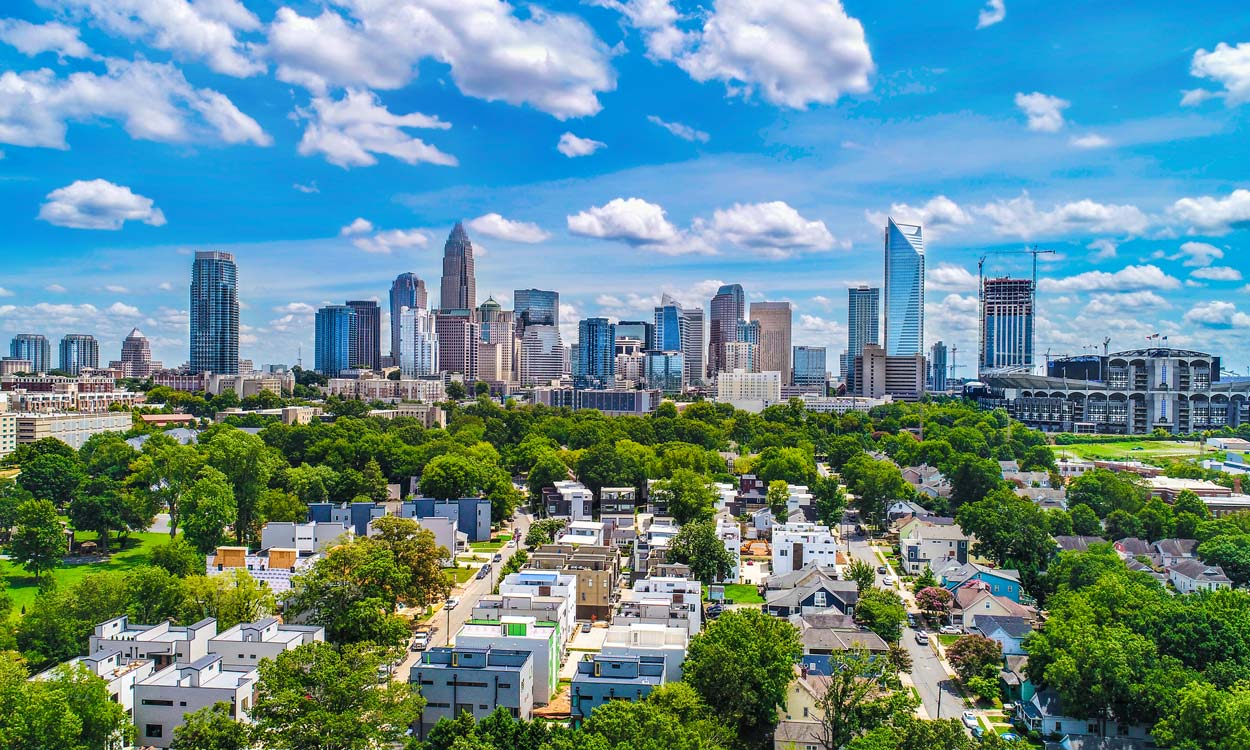 Buy affordable small business

insurance in North Carolina

online in less than 5 minutes.
No paperwork.
Instant coverage.
No-commitment quote.
Small business insurance in North Carolina
The state of North Carolina boasts one of the top 20 state economies in the United States—and that's largely due to its strong small business presence. In fact, North Carolina contains 913,398 small businesses that provide 1.7 million jobs—which means that small businesses in North Carolina employ 44.1% of workers in the private sector. So, if you're an entrepreneur in the Old North State, you're a crucial economic player and you need the best small business insurance in NC. Huckleberry can get your business protected in around 5 minutes. Even better—there's no paperwork. It's all online and easy.
The most common types of small business insurance in North Carolina
Workers' comp protects your business in case an employee ever gets an illness or injury because of their job. It'll pay for medical and rehabilitation expenses and wage loss (so you don't have to).
A business owner's policy (also known as a BOP) is a combination of several different insurance coverages. It contains business interruption insurance, property insurance, and general liability insurance.
If another business or person ever tries to sue your business for bodily injury or damage to property, general liability insurance can help cover your financial settlement and legal expenses.
Business property insurance can pay for damage to your building (as long as it's damage resulting from a covered reason), while business personal property insurance pays out to repair or replace the things inside your building.
Business interruption insurance helps your business stay afloat if you're ever forced to close temporarily for a covered reason. It'll take care of ongoing expenses like taxes and payroll—or even the cost of a temporary location, if necessary—while you get back on your feet.
How much do North Carolinians pay for small business insurance?
In North Carolina, the median yearly cost that Huckleberry customers pay for workers' comp is $951. The median cost for a BOP is $750 — while for general liability insurance, it's $835.
If you're wondering how much you might pay, though, you'll have to look at factors specific to your small business. Costs vary depending on which industry your business falls under, where you are in North Carolina, and how many employees you have. So, your premium could be higher—or a lot lower—than the median prices. (For example, Huckleberry customers have paid as little as $267 for their workers' comp policy.) If you're curious about what your small business rate might be, you can get an estimate fast with our 60-second insurance rate calculator. (No obligation. Easy questions.)
Other coverages you can add to your North Carolina policy
The most common industries getting small business insurance in North Carolina
Landscaping & Lawn Care
Commercial Cleaning
Heating & Air Conditioning
4 reasons why business owners in North Carolina love Huckleberry
It's fast. 95% of Huckleberry customers get covered in 5 minutes or less.
It's super easy. We explain everything in simple terms.
It's affordable. There's a good chance you'll pay way less.
It's all online. You'll manage your account via our simple online business insurance portal.
Don't take our word for it
Get a quote in five minutes.
Everything's online. Everything's easy. Tap the button to get started.