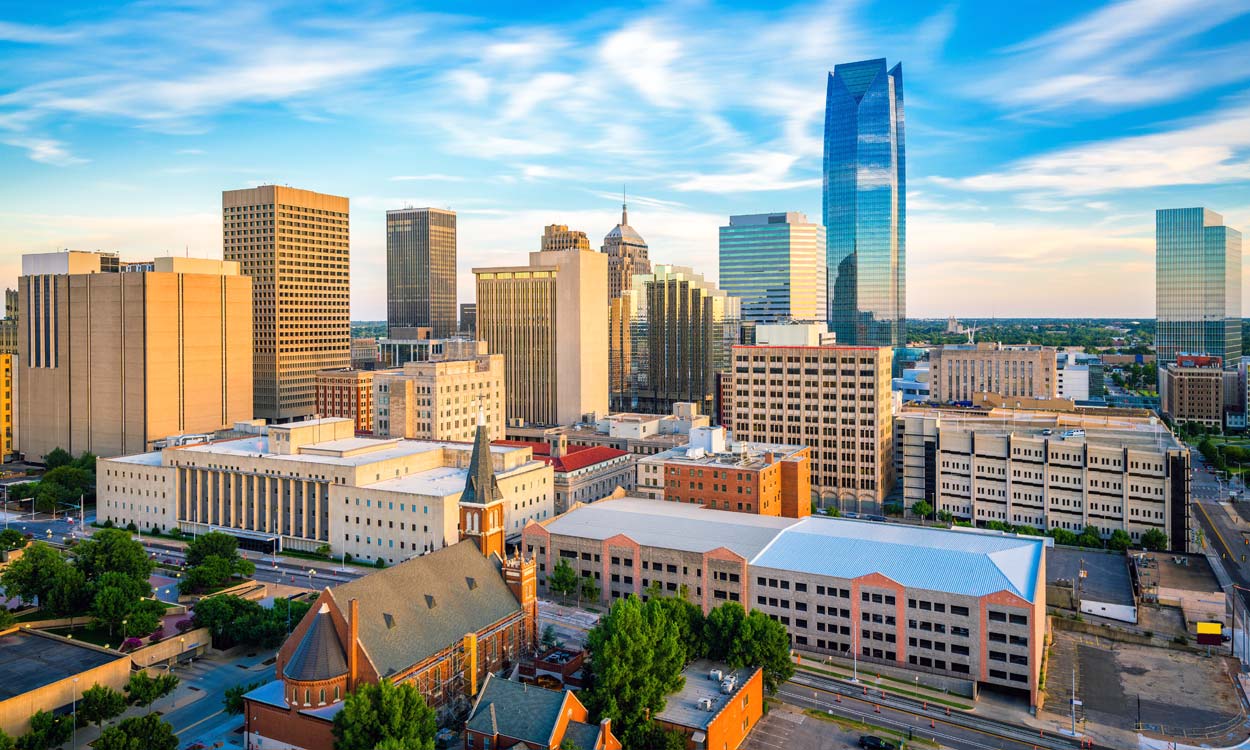 Buy affordable small business

insurance in Oklahoma, online

in less than 5 minutes.
No paperwork.
Instant coverage.
No-commitment quote.
Small business insurance in Oklahoma
Oklahoma is an entrepreneurial place, with over 350,000 small businesses calling the state home. In fact, just over half of all private sector employees earn their paycheck through a small company in OK—that's 712,582 workers. So, if you're an entrepreneur in the Sooner State, you provide a vital source of commerce and employment and you need quality small business insurance to keep your company protected.
The most common types of small business insurance in Oklahoma
Workers' comp covers your employees if they ever experience sickness or injury because of their job. It takes care of medical bills, rehab, and lost wages while your employee recuperates.
A package of vital coverages that protect your small business. A business owner's policy contains business interruption insurance, general liability, and property insurance.
If a third party ever tries to sue your business for personal injury or property damage, general liability insurance helps take care of the settlement and legal fees.
If your building is ever damaged or destroyed, business property insurance helps cover the cost of repairs and might even pay out for a new building. Business personal property insurance covers the items inside your building.
Business interruption insurance helps your business stay financially stable if it ever closes down temporarily for a covered reason. It can cover important ongoing costs, like payroll and taxes, as well as immediate emergency costs (like the cost of renting a temporary location).
How much do Oklahomans pay for small business insurance?
First, a few stats: the median cost that Huckleberry customers pay for an Oklahoma workers' comp premium is $1,352. For general liability insurance, the median price is $750. And for a business owner's policy—which combines general liability with a few other coverages you'll probably need—the median price in Oklahoma is $750.
With that said, it's important to know that rates vary depending on how many people work for you, where your business is based, and what industry you're in. You could pay more than the median—or much less—for Oklahoma small business insurance. In the end, the fastest way to find out what your premium would be is to get a 60-second estimate from our insurance rate calculator. (There's no obligation, and it really is that fast.)
Other coverages you can add to your Oklahoma policy
The most common industries getting small business insurance
Landscaping & Lawn Care
Commercial Cleaning
Heating & Air Conditioning
4 reasons why business owners in Oklahoma love Huckleberry
It takes 5 minutes to get coverage. (Getting a quote from a legacy insurer can take awhile.)
We explain everything in language you'll understand.
You manage your policy online. No paperwork.
It's worth it. You could pay a lot less for the coverages you need.
Don't take our word for it
Get a quote in five minutes.
Everything's online. Everything's easy. Tap the button to get started.