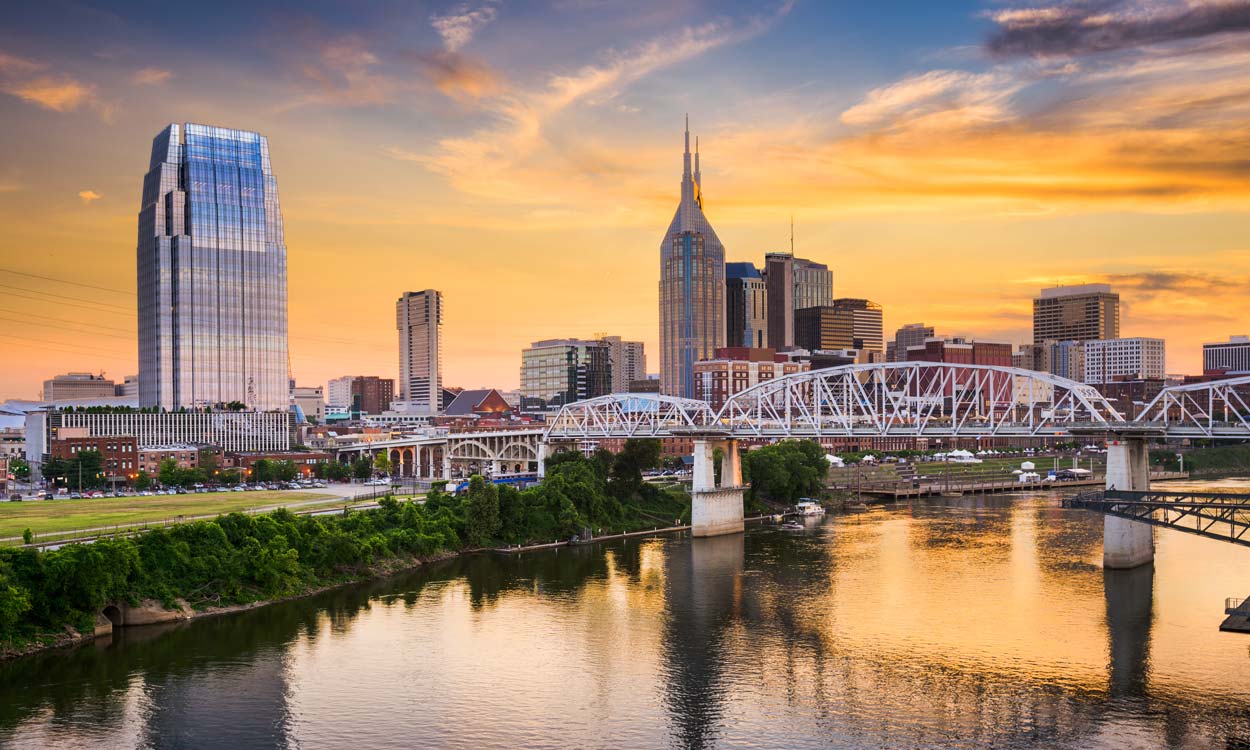 Buy affordable small business

insurance in Tennessee, online

in less than 5 minutes.
No paperwork.
Instant coverage.
No-commitment quote.
Small business insurance in Tennessee
Entrepreneurs are right at home in Tennessee. Not only does the state host 603,310 small businesses (which employ 1.1 million people—or 42.3% of all private sector employees), but small companies added 43,308 positions to the Tennessee job market in 2016 alone. So, if you're an entrepreneur in the Volunteer State, you can know you're vital to the state's economy, and you need small business insurance you can trust. Huckleberry gets your business covered in about the amount of time it takes to make a cup of coffee—and without a single piece of paperwork. (Seriously, it takes minutes and the form is entirely online.)
The most common types of small business insurance in Tennessee
Workers' comp protects your employee if they ever get an illness or injury on the job. It'll pay out for lost wages, medical care, and ongoing treatment.
A BOP (business owner's policy) is a combination of coverages your business needs to stay protected in many different scenarios. It includes business interruption insurance, property insurance, and general liability insurance.
If someone ever takes your business to court over personal injury or property damage, general liability insurance helps cover your legal expenses.
Business property insurance covers your building if it's ever damaged or destroyed, and business personal property insurance covers items inside the building (such as furnishings and office supplies).
Business interruption insurance alleviates the financial burden of a temporary stop to your business operations (for a covered reason). It'll take care of ongoing expenses like payroll and loan payments and may cover some emergency expenses, too.
How much do Tennesseans pay for small business insurance?
Good question. First, let's get a general feel for the numbers. The median amount Huckleberry customers in Tennessee pay yearly for workers' comp premiums is $932. For a business owner's policy—a package of coverages that most small businesses need, including general liability insurance—the median yearly cost is $671. And for general liability by itself, the median is $700.
It's important to understand that these numbers don't necessarily reflect what your business would pay, because your business is unique. How many employees you have, where you've set up shop, and what industry you're in are all factors that will affect your rate. So, you could be looking at higher or much lower premiums for Tennessee small business insurance.
The quickest way to find out is to take our 60-second small business insurance rate calculator. (There's no obligation to sign up for anything and it's really that fast.)
Other coverages you can add to your Tennessee policy
The most common industries getting small business insurance in Tennessee
Landscaping & Lawn Care
Commercial Cleaning
Heating & Air Conditioning
4 reasons why business owners in Tennessee love Huckleberry
It's fast. 95% of Huckleberry customers get covered in five minutes (or even less).
It's super easy. We explain everything in simple terms.
It's paperwork-free. You'll manage your account via our simple online portal.
It's affordable. There's a good chance your premium will be much lower.
Don't take our word for it
Get a quote in five minutes.
Everything's online. Everything's easy. Tap the button to get started.