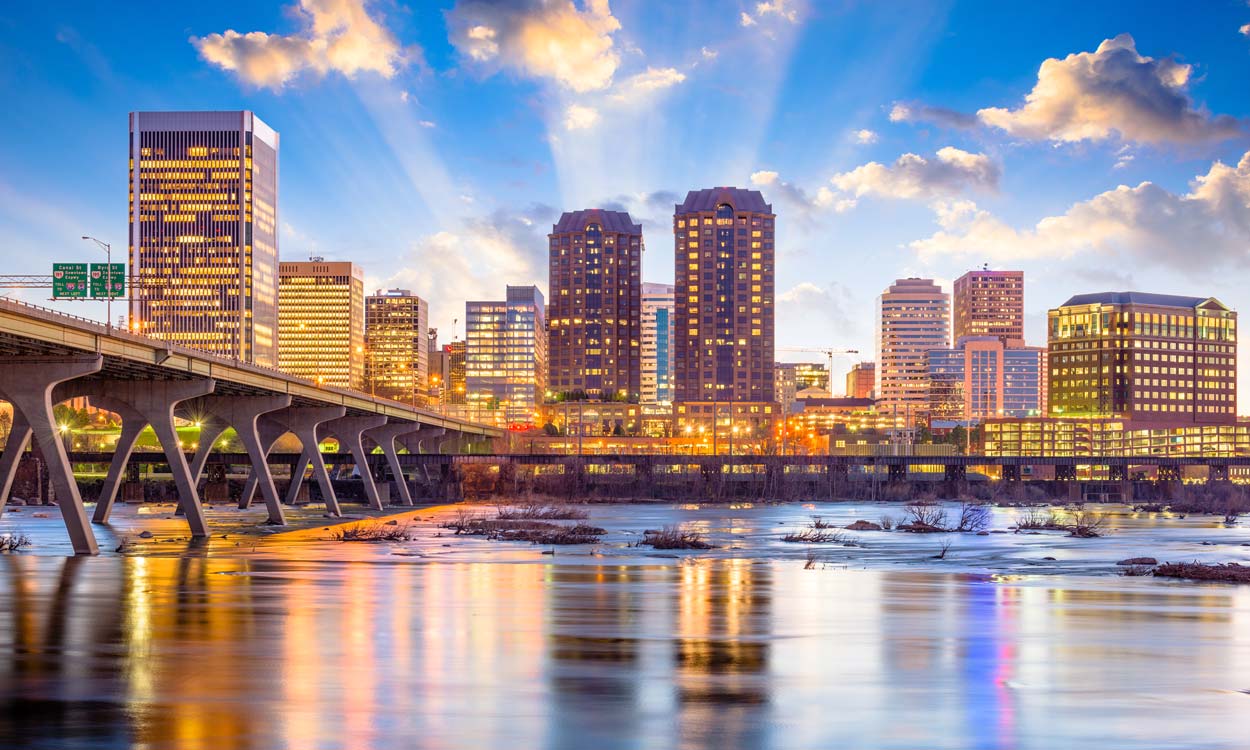 Buy affordable small business

insurance in Virginia, online

in less than 5 minutes.
No paperwork.
Instant coverage.
No-commitment quote.
Small business insurance in Virginia
Virginia is for entrepreneurs, and we have the numbers to prove it. It's home to 745,866 small businesses that employ 1.5 million people—and boosted job growth by 50,960 in 2016 alone. All told, over 47% of private workers in VA make their living through a small business. So, if you're a small business owner in the Old Dominion State, you can be proud knowing you're a huge part of the state's economy. And you need reliable small business insurance to keep your company safe.
The most common types of small business insurance in Virginia
Pays out for medical bills, wage loss, and rehabilitation if your employee gets sick or injured on the job.
A business owner's policy (or BOP) is a bundle of vital coverages that protects your business in a variety of unanticipated situations. A BOP contains business interruption insurance, property insurance, and general liability coverage.
If you're ever sued by a third party for bodily harm or property damage, general liability will help cover legal fees and the cost of a settlement.
Business property insurance safeguards your building in case of damage or destruction for a covered reason. Business personal property insurance, meanwhile, covers what's inside your building.
Business interruption insurance protects you from income loss if your business ever has to temporarily close down for a covered reason. It covers costs such as payroll and taxes and might even pay the bill for a temporary location if you need one.
How much do Virginians pay for small business insurance?
First, let's take a broad view of the numbers. For Virginia workers' comp, Huckleberry customers pay a median cost of $915.50/year. For general liability coverage, the median price is $641.50, and for a BOP (or business owner's policy)—which combines general liability with other essential coverages—the median cost is $642.00.
Be aware, though, that these premiums will probably not match your premium. That's because coverage costs are determined by many different variables. Your company's location, employee count, and industry will all influence your premium cost, which means you could pay more—or significantly less— than the median prices for Virginia business insurance.
Curious to see what your premium might be? The fastest, easiest way to find out is to try our 60-second small business insurance rate calculator.
Other coverages you can add to your Virginia policy
The most common industries getting small business insurance in Virginia
Landscaping & Lawn Care
Commercial Cleaning
Heating & Air Conditioning
4 reasons why business owners in Virginia love Huckleberry
No wait. Get covered in 5 minutes.
No nonsense. Everything is in everyday English.
No paperwork. (Online and easy.)
No worries. Because you'll probably pay less for insurance.
Don't take our word for it
Get a quote in five minutes.
Everything's online. Everything's easy. Tap the button to get started.