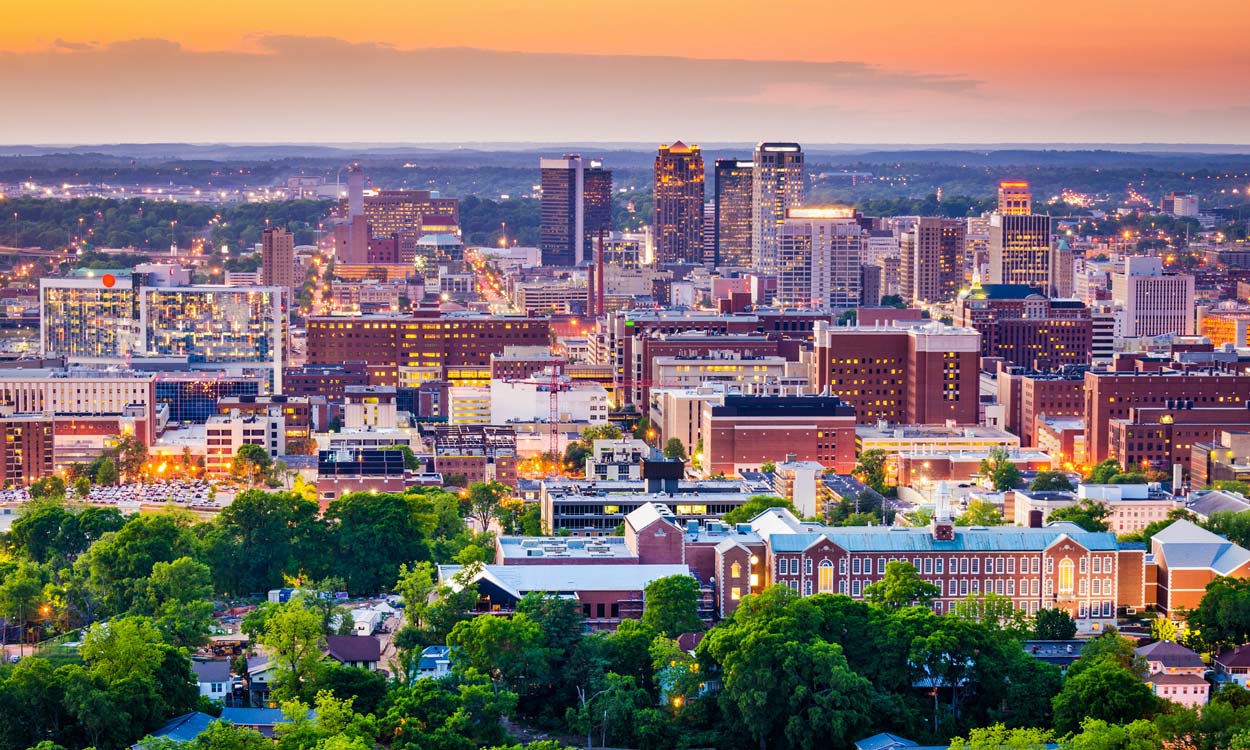 Buy affordable workers'

compensation online in less

than 5 minutes
No paperwork.
Instant coverage.
No-commitment quote.
Alabama workers' compensation laws
The big question: does Alabama require workers' compensation? And the answer is yes—as long as you hire at least 5 employees, you'll need to purchase workers' compensation coverage for your Alabama small business. Employees don't have to be full-time to count toward the requirement, either—to the state of Alabama, "employee" means just about any employee: full-time, part-time, or LLC members. (There are some exemptions for domestic workers, farm workers, and casual employees, though, so definitely contact your insurer if you have any questions about the requirements for your business.)
What if you don't get workman's comp coverage for your small business? The state of Alabama isn't messing around. If your business is required to get workers' compensation insurance and the state catches you operating without it, you could be judged guilty of a misdemeanor and fined. And if you're caught without insurance at the time of an employee injury, you'll be required to pay two times the amount of the actual cost of the incident. (Think about the worst hospital bill you've ever heard of—then double it. Yes, it could be bad.)
And even if you aren't required to purchase workers' comp, it's still vital protection for you and your company. Without it, you'll be liable for the cost of any illness or injury that happens to your employees on the job—and you could be on the hook for a bill that could cost anywhere from $1,000 to $100,000 to $1,000,000. It's serious business.
In short, if you run a small business in Alabama, then you probably need workers' compensation insurance—and there's a good chance you're required to get it. Fortunately, workers' comp is pretty easy to purchase. The State of Alabama has already decided on all the workers' comp limits, so you won't have to make any complex decisions about your coverages. (This also means that every small business insurance company is selling essentially the same workers' comp product, so you should absolutely shop around to get the best rate.)
See what you might pay for workman's comp in Alabama with Huckleberry's 60-second insurance rate calculator.
How much does workers' compensation cost in Alabama?
It's important to know that your rate for Alabama workers' compensation insurance will depend on a lot of variables, such as your industry, your safety record, and your location. But the biggest factor in what you'll pay is the size of your payroll. The bigger your payroll, the more employees you have—and the more employees you have, the more likely it is that someone on your team will eventually file a workers' comp claim.
So what will your Alabama small business pay for workers' comp coverage? The median premium cost that our customers pay in Alabama is $1,247 per year. But that's just a data point. In fact, Huckleberry customers have paid as low as $500 per year for their workers' comp insurance—which is just a dollar and change per day (and not nearly as expensive as a lawsuit or a major surgery).
Ultimately, the best way to find out what you'd pay for workers' comp is to tap here for a 60-second estimate. It's completely online and easy.
Workers' comp coverage and exemptions
Workers' compensation insurance (often called workman's comp) exists for one major reason: to protect you, your business, and your employees if a member of your team gets injured or ill because of their job. Workman's comp protects you and your business by paying all the costs associated with your employee's injury, such as medical bills, lost wages, and rehabilitation costs. Without this coverage, you and your company would be responsible for paying all the bills associated with the injury or illness—and, yes, that could get pretty costly.
Meanwhile, this coverage protects your injured employee by guaranteeing they have the resources and time they need to get better. For example, if a member of your team hurt their back while lifting a heavy box on the job, workers' compensation would pay out for their visits to the doctor and for any physical therapy they needed to get better. It would also compensate them for a portion of their lost earnings—usually about 2/3rds of their previous weekly wage. In addition to sudden injuries, workers' comp also covers repetitive injuries (such as carpal tunnel syndrome) and illnesses caused by the workplace environment, so it's a pretty broad and important coverage to have for your team.
That said, workers' comp doesn't cover everything. For example, if your employee gets injured because of the illegal use of drugs or alcohol, they likely won't be covered by workers' comp. And Alabama workman's comp won't pay for injuries that happen because of the willful misconduct of another employee (or because the injured team member refused to use a required safety device). Moral of the story: keep an eye out and don't ignore bad behavior in the workplace.
Who's covered when you purchase an Alabama workers' comp policy? Pretty much everyone on your team, though there are some possible exceptions. You're not required to insure yourself, for example. And you can choose to exempt your corporate officers and LLC members from your policy, if that works better for all parties. Other than that, workers' comp protects every employee in your business—and that's a positive thing. This insurance coverage provides an important safeguard for everyone.
Top industries we serve in Alabama
Landscaping & Lawn Care
Commercial Cleaning
Heating & Air Conditioning
4 reasons why business owners in Alabama love Huckleberry
It's faster. 95% of Alabama small business owners get the coverage they need in 5 minutes.
It's more affordable. You'll likely pay less for workman's comp.
It's easier to use. We explain everything in simple English.
It's online. (Yes, finally.)
Q&A about Alabama workers' compensation requirements
Probably not. According to Alabama workers' compensation law, you're only required to get workers' comp if you hire at least five employees. So if you're a one-person business, the legal mandate doesn't apply to you.

If you meet the legal minimum of 5 employees (full-time or part-time), going without workers' comp is a pretty bad idea. If you choose to ignore the law—and your employee is injured or ill—you'll be on the hook to pay double the cost of the medical incident. And even if that doesn't happen, your business could be fined by the state and you, personally, would be guilty of a misdemeanor.

Going without workers' comp isn't worth the risk. Especially since you can get your Alabama business covered with Huckleberry in less than 5 minutes.

Definitely. If your Alabama small business has at least five employees—full-time or part-time—you're required to get workers' comp. (Part-time workers get injured, too.)
Don't take our word for it
Get a quote in five minutes.
Everything's online. Everything's easy. Tap the button to get started.