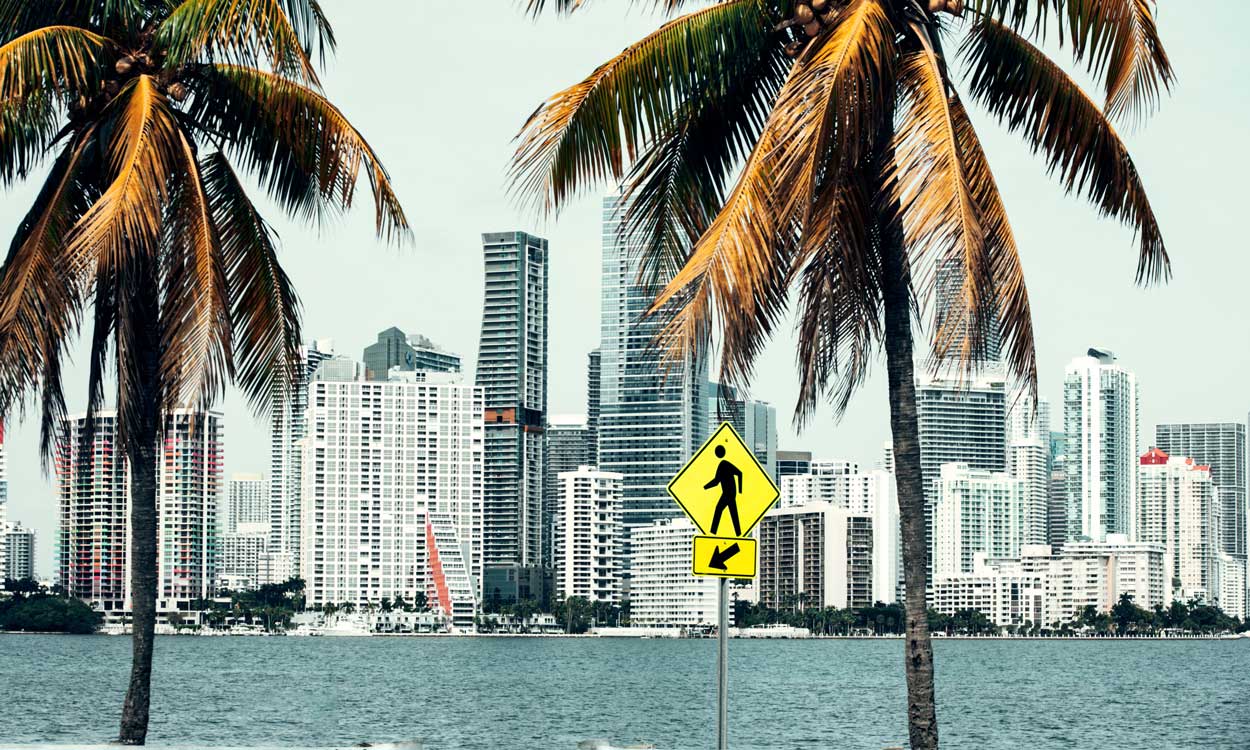 Buy affordable workers'

compensation online in less

than 5 minutes
No paperwork.
Instant coverage.
No-commitment quote.
Florida workers' compensation law
Does Florida require workers' compensation insurance? The short answer is: yes, workers' comp is a legal requirement for many small businesses in the Sunshine State. But whether your small business needs workers' comp depends on how many employees you have and what industry you're in. So let's take a look at Florida's workers' compensation requirements:
If you run a Florida construction company and have at least one employee, you're required to have workers' comp insurance. Owners and corporate officers count toward the employee minimum, too, so you'll need to get workers' comp as soon as you start your LLC.
If your Florida business is a "non-construction" company, you're required to have workers' comp as soon as you have at least four employees. It doesn't matter whether they're full-time or part-time employees, either. If you employ them, they count.
If you're in agriculture, you'll need to purchase workers' comp if you have at least six full or part-time workers—or if you hire twelve or more seasonal workers (a seasonal worker is anyone who works for you more than 30 days in a season, but doesn't work for you longer than 45 days in any given year).
If you hire independent contractors, you're not required to provide workers' comp for them. But you'll definitely need to verify that they've purchased their own workers' comp. If they haven't—and they get hurt on your worksite—you'll be financially responsible for their accidents. (Ouch.)
One nice thing about workers' comp is that all coverage decisions are made by the State of Florida, That means every insurance carrier is essentially selling the same coverage and you should definitely shop around for the best rate. (Huckleberry makes it simple to get a 60-second estimate on workers' comp here. It's completely online and really easy.)
How much is workers' compensation in Florida?
The number one factor for determining the cost of workers' compensation insurance in Florida is the size of your payroll. The bigger your payroll and the more employees you hire, the more you'll pay for workers' comp. Pretty simple, right? It makes sense. But there are many other factors that will go into the price you pay—such as your industry, your location, and your safety record—and rates vary a lot.
So, the big question: what would your price be? The median premium cost that Huckleberry customers pay is $1,341 per year. But the rate for Huckleberry customers in Florida has gone as low as $327 per year—only about 89 cents per day. Ultimately, the best—and fastest!—way to figure out what you might pay is to get a 60-second estimate from Huckleberry.
Workers' comp coverage and exemptions
The big picture: Florida workers' compensation insurance provides benefits if your employees ever have a health problem because they work for you. If a team member gets injured at work—or reports an illness that can be traced back to their job—workers' comp will pay out for their medical expenses and ongoing rehabilitation. It'll also pay a wage replacement benefit (usually two-thirds of the former wage) while your employee recovers. (There's technically no limit to Florida workers' comp coverage, either. A serious health issue which results in a permanent disability can result in payments for the rest of the injured worker's life.)
Who is exempt from workers' compensation insurance in Florida? That depends. Technically, if your business isn't in construction and you have fewer than four employees, you aren't required to get workers' comp. Agricultural companies with fewer than six regular employees (or twelve seasonal hires) also are exempt from the workers' comp requirement. And even if your business isn't exempt, you can usually choose to exclude members of your leadership team from coverage.
But remember that workers' comp is important insurance to have, even if it isn't required in your situation. Without it, you could be vulnerable to a lawsuit which could cost you tens of thousands of dollars—or even shut your business down.
Top industries we serve in Florida
Landscaping & Lawn Care
Commercial Cleaning
Heating & Air Conditioning
4 reasons why business owners in Florida love Huckleberry
It's fast. 95% of our customers get the workers' comp coverage they need in five minutes.
Everything is in plain English. We make insurance simple.
No paperwork. You'll manage everything through our easy online portal.
There's a really good chance you'll pay less. (The best way to find out: get a free 60-second estimate here.)
Q&A about Florida workers' compensation requirements
That depends on your situation and which industry you're in. But if you're truly on your own and never hire anyone else, you likely don't need workers' comp (unless you're in the construction industry).

However, if you ever hire other people—even on a part time basis—you should take a look at the coverage requirements above. There's a good chance you might need workers' comp insurance.

There are pretty significant penalties for going without workers' comp in Florida. If the state catches you without coverage, you could get charged with a second-degree felony—which means they could issue a "stop order" on all your business operations and shut you down completely. And if that doesn't sound bad enough, you could also be forced to pay tens of thousands of dollars in fines and financial settlements (and might even have a lien put on your property until you paid up).

Basically, if the state of Florida says that your business should get workers' comp coverage, it isn't worth the risk to go without. Get workers' comp here in about 5 minutes.

Absolutely. According to Florida workers' comp rules, part-time employees are included in the employee counts that determine eligibility. (They can get injured, too!)
Don't take our word for it
Get a quote in five minutes.
Everything's online. Everything's easy. Tap the button to get started.