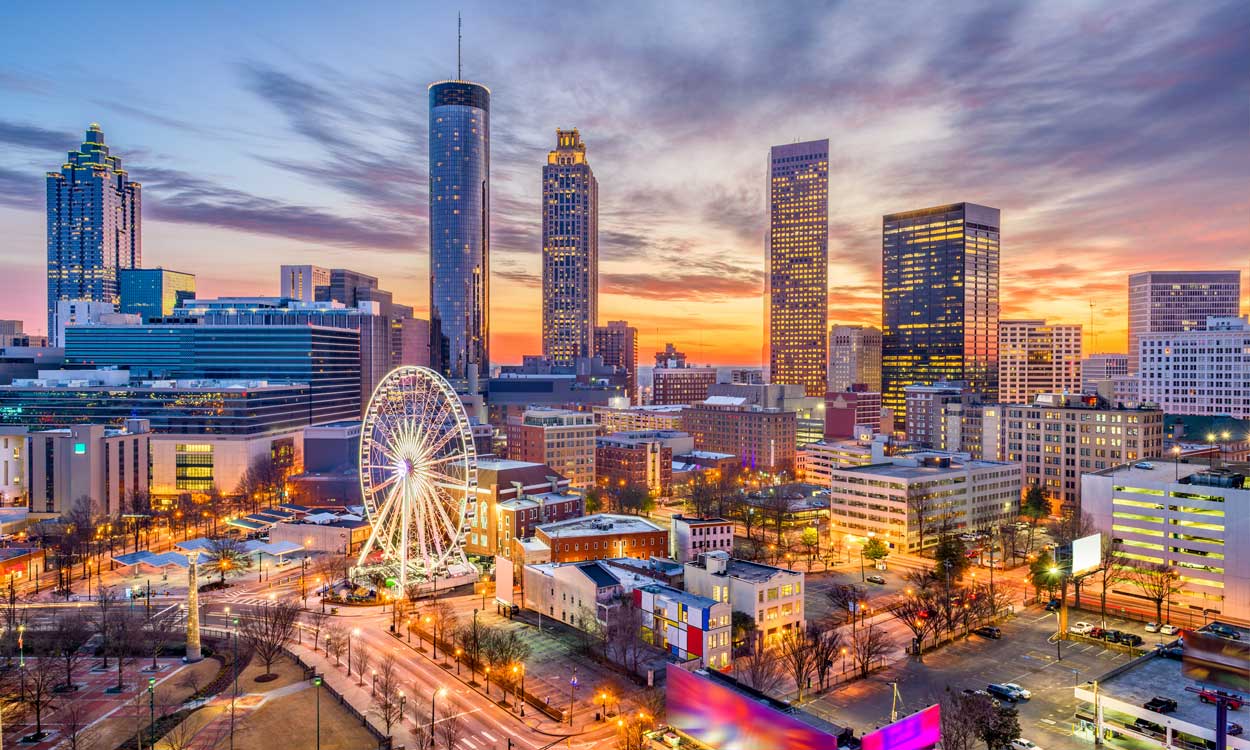 Buy affordable workers'

compensation online in less

than 5 minutes
No paperwork.
Instant coverage.
No-commitment quote.
Georgia workers' compensation insurance law
If you run a small business, here's what you need to know about workers' compensation insurance requirements in Georgia:
The biggest thing you need to know is that if you employ at least three workers (full or part time) you're required by the State of Georgia to buy workers' comp for your business. It's not an option. It's mandated by law, and there are penalties if you don't buy coverage. (See below for more on that.)
And if you have fewer than three employees? Workers' comp is optional for you—technically. But you should strongly consider purchasing a policy anyway, because if an employee gets sick or hurt because of working for you, you'll be financially responsible for their medical care (and any other associated costs). That means you could be on the hook for tens of thousands of dollars—a catastrophic blow to your business.
In short, most small businesses in Georgia purchase workers' comp—even in situations when it's not legally required. It's important protection for your business and your team. (And, incidentally, it's the right thing to do for your employees.)
See what you might pay for Huckleberry workers' comp in Georgia. (It takes 60 seconds. Seriously)
Rates for workers' compensation in Georgia
The biggest factor in Georgia workers' compensation rates is payroll size: the bigger your payroll, the more you'll pay for workers' comp. (Which makes sense, yes? The more employees you hire, the greater your risk that someone will eventually get injured.) But the cost for workers' compensation insurance in Georgia depends on a lot of other factors, too, such as your industry, your safety record, and where you're located.
So how much is workers' compensation in Georgia? Some ballpark figures: the median cost that Huckleberry customers pay for workers' comp in Georgia is $1,547 per year. But Huckleberry customers have paid as little as $208 per year. That's just a little over 50 cents per day. (And keep in mind that whatever price you pay, it's almost certainly cheaper than paying a huge legal settlement because of an employee injury.)
Ultimately, the big question is what you will pay. For that, you'll need to get a free 60-second estimate. It's the best way to find out how much it will cost to get workers' comp in your situation. (Don't worry. It's easy, free, and you won't be obligating yourself at all.)
How does workers' compensation work in Georgia?
Georgia workers' compensation insurance pays out to cover expenses if one of your employees sustains an injury or illness because of their job. For example, if your floral assistant badly cuts their hand with scissors while assembling a bouquet, workers' comp will pay out to cover stitches and any ongoing rehabilitation. Or, if your employee comes down with a respiratory problem because they breathed in a chemical cleaner in the warehouse, workers' comp would cover the medical help they need to diagnose and treat the illness.
Also, Georgia workers' comp covers lost wages while your team member is recovering. So, if your employee will miss more than 7 days of employment because of their injury, workers' comp will pay them a portion of the money they earned before the accident—generally up to 2/3rds of their former wage (with a $575 cap). And, if the injury is so severe that your employee is never able to return to work, workers' comp will pay them a lifetime benefit. It's a pretty great coverage—and it's vital to protect both your business and your team.
Top industries we serve in Georgia
Landscaping & Lawn Care
Commercial Cleaning
Heating & Air Conditioning
4 reasons why business owners in Georgia love Huckleberry
It's fast. 95% of Georgia customers get the workers' comp coverage they need in five minutes.
It's simple. We explain everything in normal English.
No paperwork. You'll do everything through our easy online portal.
You'll probably pay less. (Maybe significantly less.)
Q&A about Georgia workers' compensation requirements
It depends. If you're truly the only person who ever does work for your business, you probably don't need workers' comp. (Do make sure you get yourself health and disability insurance, though.)

But if you ever hire additional employees to get work done, take a look at Georgia workers' comp requirements above. If you hire at least three employees—even on a casual, part-time basis—you need to get coverage. It's the law

The State of Georgia isn't messing around. If your business meets the requirements for mandatory workers' comp and they catch you without it, they can fine you up to $10,000 per incident. You could also be prosecuted in a criminal court and spend up to a year in prison.

As if that's not enough, you'll also be liable for the cost of any employee illness or injury. That means medical bills, any lost wages, the cost of rehabilitation—you name it. The state might also impose other fees, civil penalties, and even a 10% increase in compensation to the injured employee. And all of that is in addition to the cost of any lawsuit the employee might bring against you.

We probably don't need to tell you how expensive any or all of that could be. Going without workers' comp isn't worth the risk. (Fortunately, you can get workers' comp now in about 5 minutes.)

Yes, absolutely. Part-time workers can get injured, too, so we'll say it again: if you hire at least three employees in Georgia—part-time or full-time—you must get workers' comp.
Don't take our word for it
Get a quote in five minutes.
Everything's online. Everything's easy. Tap the button to get started.