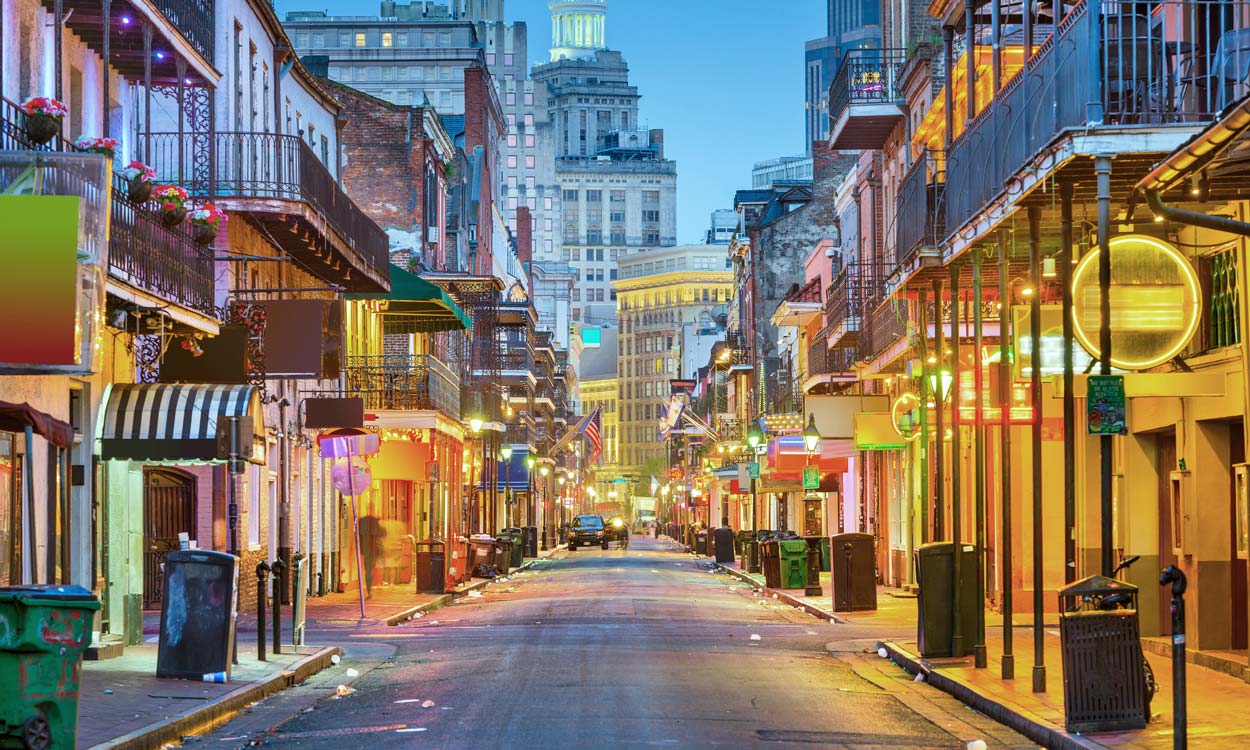 Buy affordable workers'

compensation online in less

than 5 minutes
No paperwork.
Instant coverage.
No-commitment quote.
Louisiana workers' compensation laws
Let's start with the question everyone asks: does Louisiana require workers' compensation insurance? The answer is an emphatic yes—in Louisiana, workers' compensation is a requirement. Every business in the Pelican State with at least one employee must carry this insurance coverage. And just about any employee counts toward your one-employee minimum, too—it doesn't matter if they're full-time or part-time, temporary or seasonal. If you hire them, they count. (You even need to be careful about your independent contractors. If you hire any independent contractors on a regular basis but don't count them as part of your workers' comp policy, there's a chance you're breaking the law.)
And if you don't get Louisiana workers' comp? It isn't pretty. In fact, if you're ever caught operating without the legally required workers' compensation coverage, you could be fined, charged with criminal violations, or forced to stop doing business until you can do so with the proper insurance coverage. (Yes, Louisiana takes compliance seriously.)
The big takeaway here: if you hire anyone in Louisiana, your small business is legally required to carry workers' comp. The good news is that coverage is easy to get from Huckleberry. It usually only takes five minutes or so and the whole process is 100% online. See what you might pay for Huckleberry workers' comp with our 60-second insurance rate calculator.
How much is workers' comp in Louisiana?
Insurance rates are never one-size-fits-all, and your rate for workers' compensation insurance in Louisiana will depend on several factors, such as your location, your industry, and how many safety incidents you've had at your business. But the biggest factor in your workers' comp rate will be the size of your payroll—the bigger the payroll, the more you'll pay for workers' comp. And this makes sense. The more employees you have, the bigger the chance that somebody will eventually need to file a workman's comp claim.
All that said, let's look at a few statistics that might give you a better understanding of what you might pay for coverage. In Louisiana, the median premium cost that Huckleberry customers pay for workers' comp is $1,314.50 per year. But that might not reflect what you pay for coverage. For example, Huckleberry customers have paid as low as $471 per year for LA workers' comp insurance, which is just a little bit over a dollar per day—and a lot less than the cost of a lawsuit.
(If you'd like to find out what you might pay—and quickly!—the easiest way to do that is to try out our 60-second workers' comp rate calculator.)
Louisiana workers' compensation benefits, coverage, and exemptions
Workers' compensation insurance is there to protect your employees if they ever get sick or hurt because they work for you. It pays out for medical visits, emergency care, and ongoing rehabilitation, and it can even reimburse up to 2/3rds of your employee's lost wages. For example, imagine that one of your employees severely injures their lower back while lifting something heavy at your business. In that case, workers' comp would pay for the medical examination and any surgeries or physical therapy the injured employee needs (as well as a financial benefit to partially replace the money your employee would have earned if they'd been working). All in all, workers' comp is important and helps your employees feel safe—they know that they'll be taken care of if they get hurt at work.
But workers' comp also protects you and your small business. Without it, you're legally responsible for the cost of any work-related injury or illness that affects your employees. And that's a bill which could get astronomically high—hundreds of thousands or even millions of dollars—especially if an injured employee decides to sue you. (It happens.)
So, who's covered by your Louisiana workers' comp policy? Just about everyone, though there are a few possible exemptions. For example, you can request exemption for yourself (if you're the owner) and for any corporate officers that own at least 10% of your company. But other than that, workers' comp is designed to provide protection and benefits to each team member in your small business—and that's a good thing.
Top industries we serve in Louisiana
Landscaping & Lawn Care
Commercial Cleaning
Heating & Air Conditioning
4 reasons why business owners in Louisiana love Huckleberry
It's quick. 95% of Louisiana small business owners get the workers' comp they need in 5 minutes.
It's affordable. You'll probably pay less for workman's comp.
Everything is online.
It's super simple.
Common Q&A about Louisiana workers' compensation
No, if you're a one-person business and you never get help from anyone else, you're not required to get workers' comp. Be careful, though! According to the State of Louisiana, just about any employee counts toward your minimum: it doesn't matter if they're full-time, part-time, temporary, or seasonal. Even a volunteer or an independent contractor might need to be covered, if they help you out regularly.

Choosing to go without workers' comp coverage is a pretty bad idea in Louisiana. You can be fined up to $500 per employee per violation—up to $10,000. And as if that's not bad enough, you might also be charged with a criminal violation or be forced to shut down your business for a while. No good.

And even if you're willing to risk legal repercussions from the state, you should consider the cost of paying out for medical bills or a lawsuit if one of your employees gets seriously injured on the job. Fighting a liability lawsuit can be very, very expensive and time-consuming.

Ultimately, going without workers' comp coverage isn't worth the risk—to you or to your employees. Especially since you can get your Louisiana business covered with Huckleberry in less than 5 minutes.

Yep. Part-time workers get injured, too. In the State of Louisiana, you're required to get coverage for all your employees.
Don't take our word for it
Get a quote in five minutes.
Everything's online. Everything's easy. Tap the button to get started.