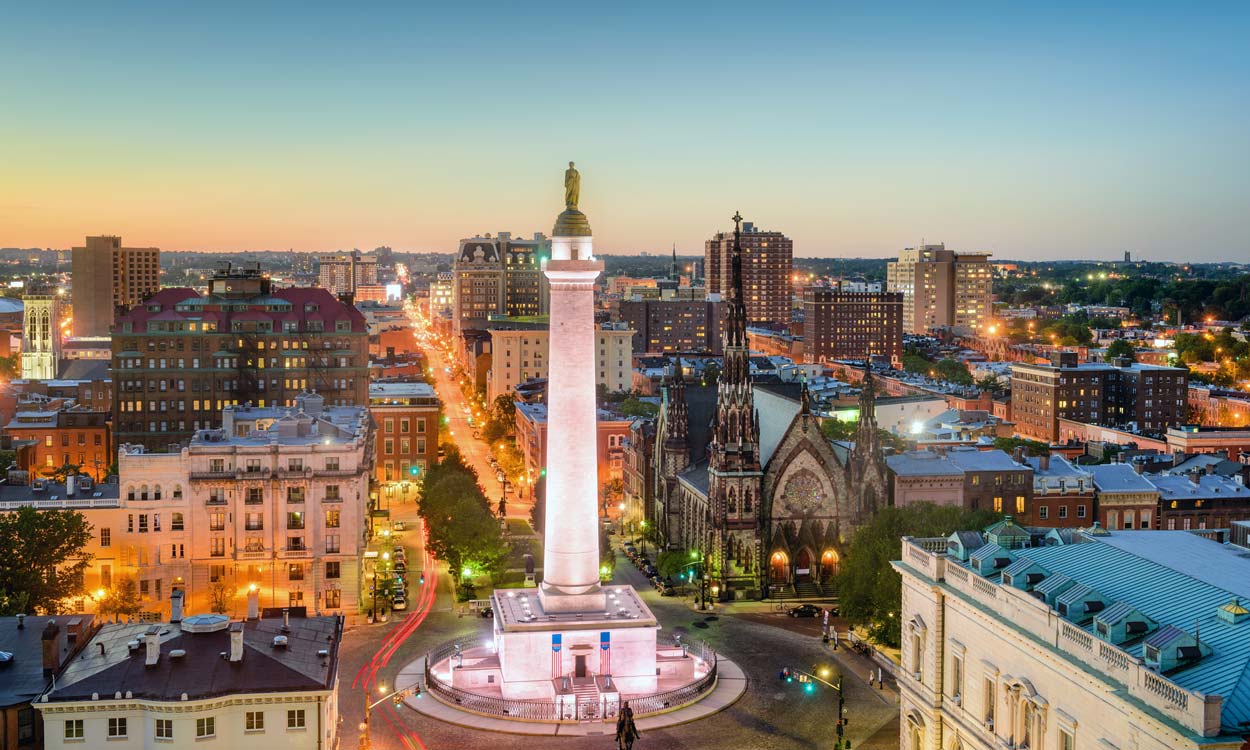 Buy affordable workers'

compensation online in less

than 5 minutes
No paperwork.
Instant coverage.
No-commitment quote.
Maryland workers' compensation laws
Let's talk about workers' compensation insurance in Maryland. The major thing you need to be aware of—especially if you're a small business owner—is that workers' comp insurance is required for all employers in The Old Line State. As soon as you hire your first employee, you need to purchase coverage. And as far as the state of Maryland is concerned, that employee can be full-time, part-time, or even seasonal—if you employ them, they count. What happens if you don't get workers' comp? Nothing good. For one thing, you'll be financially and legally liable for any injury or illness your employee sustains because they work for you. And even if you don't get stuck paying a huge medical bill, there's a good chance of getting fined or prosecuted by the State of Maryland. (Yep, it happens.)
Ultimately, if you're an employer in the state of Maryland, you need to get workers' comp coverage. The good news is that it is super easy to purchase from Huckleberry, and you can get a 60-second rate estimate at our workers' comp calculator. (Right now. For free.)
How much is workers' comp?
Workers' comp rates in MD vary a lot, and they depend largely on your specific situation. Your rate will fluctuate based on your safety record, your location, and what industry your business is in. (A transcription service, for example, will generally pay less for workers' comp than a construction company. Which makes sense.) But the biggest factor in your workers' comp rate is the size of your payroll—the more people you employ, the more you'll pay out for workers' comp coverage.
So your rate will depend on a lot of factors, but here are some general numbers: The median cost that customers in Maryland pay is $894 per year. That said, some Huckleberry customers have paid as little as $412 per year for workers' compensation coverage. It's just a smidge over a dollar per day, which is really affordable and much less than the cost of a liability lawsuit. (Workers' compensation really is worth it.)
Want to get a better idea of how much you'd pay for your workers' comp? Try our 60-second workers' compensation rate calculator.
Workman's comp coverage and exemptions
Workers' compensation insurance exists for one main reason: To protect employees who get hurt while working. It pays out to cover medical treatment, ongoing rehabilitation, and lost wages as a result of any medical issue that—as the State of Maryland puts it— "arises out of employment." To put it another way, if the injury or illness happened because of a person's job, there's a very good chance that workers' comp will cover it.
For example, workers' comp in Maryland might pay for the cost of a back injury that your employee sustains while lifting a heavy box. Or, if a member of your team begins to develop hand pain because of a repetitive motion they perform for work, workers' compensation coverage would pay out for the cost of their physical therapy and pain medication. It might even pay for the cost of job retraining if the injury made it impossible for your employee to return to the same job. So this coverage is a pretty broad policy, and it's important for both your team and your business. (Trust us—you don't want to go uninsured and then get stuck with a huge medical bill and a liability lawsuit.)
Who's included in your Maryland workers' comp policy? Just about everyone on your team—including your part-time employees—will be covered when you purchase a policy. That said, if you're organized as a corporation or an LLC, some members of your leadership team may be eligible to request exemption. (And, of course, if you run your business completely on your own and don't hire anyone else, you're not required to purchase coverage for yourself.)
Top industries we serve in Maryland
Landscaping & Lawn Care
Commercial Cleaning
Heating & Air Conditioning
4 reasons why business owners in Maryland love Huckleberry
It's really, really fast. 95% of small businesses in Maryland get the workers' comp they need in 5 minutes.
You'll likely pay less for your workman's comp.
It's completely online.
Everything is easy to understand. If there's a decision to make, we explain it in simple English.
Common q&a about Maryland workers' compensation
If you're the only person who works at your business, then you don't have to purchase workers' comp. (But as soon as you think about hiring help, start looking around for rates—you're required to have workers' comp as soon as your first employee starts working.)

Maryland takes workers' comp compliance seriously, and if they catch you going without the required coverage, they can fine you up to $10,000.

As unpleasant as that sounds, though, it's nothing compared to the legal risk you'd be taking by going uninsured. If an employee gets injured or sick on the job, you'll be responsible for the complete cost of their medical care and lost wages. And if the injury is very serious, you could be on the hook for their ongoing financial support. Put simply, the cost for a workplace injury can range from thousands of dollars to millions of dollars, depending on the severity of the injury and whether or not your employee decides to sue you in court.

Long story short, going without workers' comp is not a good way to save money, especially when you can get an affordable policy from Huckleberry in about 5 minutes.

Definitely. Any employee could get injured at any time, and your workers' comp policy will cover your part-time and full-time workers.
Don't take our word for it
Get a quote in five minutes.
Everything's online. Everything's easy. Tap the button to get started.