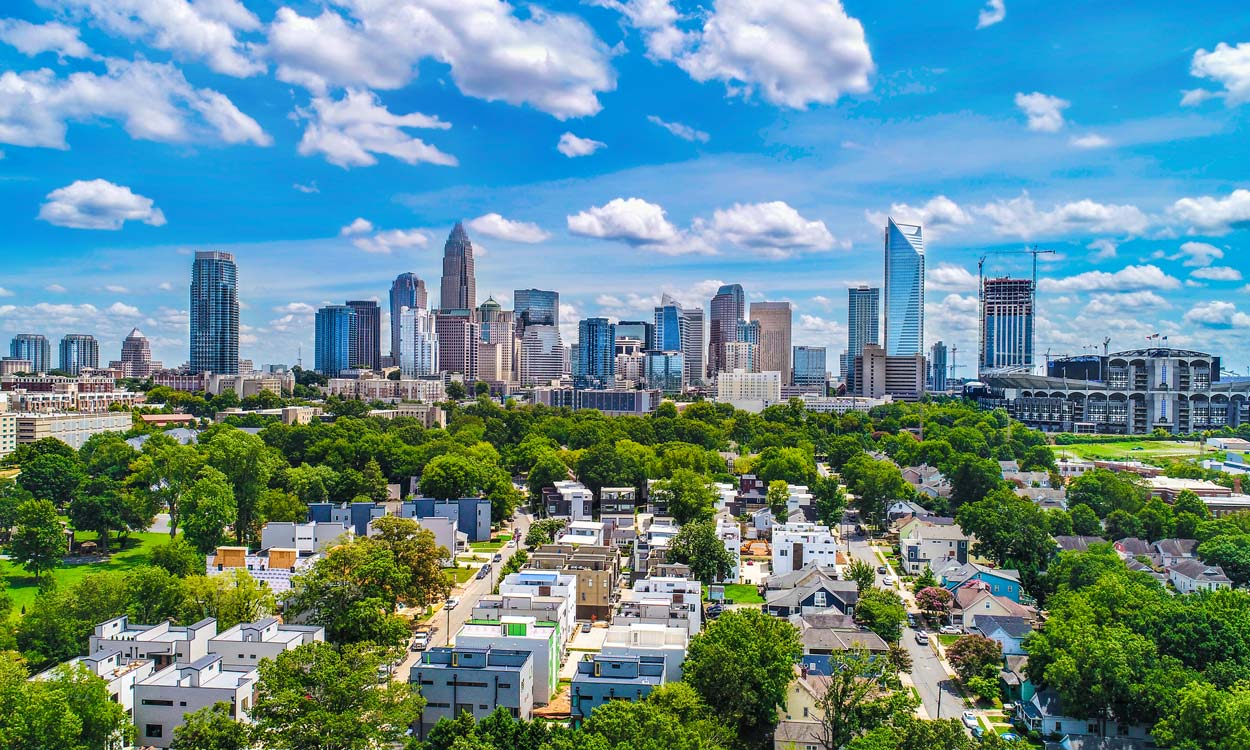 Buy affordable workers'

compensation online in less

than 5 minutes
No paperwork.
Instant coverage.
No-commitment quote.
North Carolina workers' compensation laws
How does workers' compensation work in North Carolina? The biggest thing to know about workers' compensation insurance is that it's legally required if you hire at least three people. It doesn't matter whether those employees are full- or part-time, either—as long as they're on the payroll, they count. And if you go without workman's comp in NC, there are some pretty hefty consequences (such as financial penalties, legal charges, and jail time).
Basically, if you run a small business in North Carolina, there's a good chance you're required to have workers' comp. And even if you don't have enough employees for the legal mandate to apply, you should seriously consider getting covered anyway. Workers' compensation insurance protects your employees by providing them the financial and medical resources they'll need to recover from a job-related medical issue, and—this is a big deal!—it also protects you from a huge bill if a member of your team gets hurt on the job. Without workers' comp, you and your company will be responsible for paying the full cost of an employee injury—a cost that could be hundreds of thousands of dollars. (Yes, it's scary.)
Fortunately, it's super easy to purchase workers' comp from Huckleberry. You can even get a quick estimate on what it might cost here, at our 60-second workers' comp calculator.
How much is workman's comp insurance in North Carolina?
Here's the deal with NC workers' comp rates—they depend on a lot of factors. The price you'll pay for your insurance coverage depends on variables like your location, your industry, your safety record, and—the biggest factor of all—the size of your payroll. A 100-person construction company in a large metro area will pay much more for workers' comp than a 5-person bakery in a small town. So it's impossible to give a one-size-fits-all answer, and the best way to find out what you'd pay is to use our workers' comp rate calculator here.
All that said, here are some general numbers: The median premium cost that customers in North Carolina pay is $951 per year. But Huckleberry customers have paid as low as $267 per year for their workers' comp, which is only 73 cents per day. Whatever you pay for workers' comp, though, it's likely way less than you'd pay for medical bills and lost wages when one of your employees has an accident on the job. Workman's comp is worth it.
Workman's comp coverage and exemptions
Workman's comp coverage will pay for medical expenses and a portion of lost wages if one of your employees gets sick from a job-related cause or has an accident at work.
For example, your employee could claim workers' comp benefits if they were exposed to a harmful toxin at work—or if they developed severe spinal problems because of a repeated motion they had to perform on the job. In either of those cases, workers' comp would step in to provide the resources the employee needed to get medical help and rehabilitation (and to protect your business from paying the bill!). So this coverage is a great (and necessary) policy, and it covers just about everything that could happen to your employee because of their job.
Who's included in your workers' comp policy? According to NC state workers' compensation laws, your policy will cover everyone on your team—with the notable exception of sole proprietors, LLC members, and business partners. All of those parties are not automatically counted as an employee and are exempt from your workman's comp policy. Those people might be able to get coverage on policy, though, if they want it (and if they meet certain requirements).
A quick note about corporate officers: If your business is organized as a corporation, your officers will automatically be included in your workers' comp policy. They can choose to be excluded, but if they do they'll still be included in your overall employee count.
Top industries we serve in North Carolina
Landscaping & Lawn Care
Commercial Cleaning
Heating & Air Conditioning
4 reasons why business owners in North Carolina love Huckleberry
It's fast. Really fast.(95% of small businesses in North Carolina get the insurance they need in 5 minutes.)
It's affordable. You'll probably pay less for your workman's comp.
It's easy. We explain everything in simple English.
It's online. No paperwork. (And no fax machines.)
Common questions about North Carolina workers' compensation coverage
If you're a sole proprietor, then no—you probably won't have to purchase workers' comp. In North Carolina, you aren't legally required to purchase workman's compensation coverage unless you've hired at least three people.

North Carolina takes noncompliance seriously, and it's a pretty bad idea to go without coverage if the state mandates it for your small business. You could face stiff financial penalties, be personally charged with a misdemeanor or a felony, and could even be thrown in jail. (They're not playing around.)

And even if they don't catch you without coverage, you're still vulnerable because of your legal responsibility to your employees. Without workers' comp, you'll be on the hook for paying the medical and rehabilitation costs for any employee who gets sick or injured because they work for you. And that can be very expensive—if the injury is serious, you could be looking at a bill for hundreds of thousands of dollars. (That's just the direct costs, too. When you start to look at the cost of a possible lawsuit and legal settlement, the financial prospect looks even worse.)

Going without workers' comp isn't worth the risk—to your employees or to your business. Especially since you can workman's comp from Huckleberry in less than 5 minutes.

Absolutely. Part-time workers can get injured, too. Workers' comp requirements in NC are pretty clear: as long as you have at least three employees, you'll need to get workers' comp for all of them.
Don't take our word for it
Get a quote in five minutes.
Everything's online. Everything's easy. Tap the button to get started.