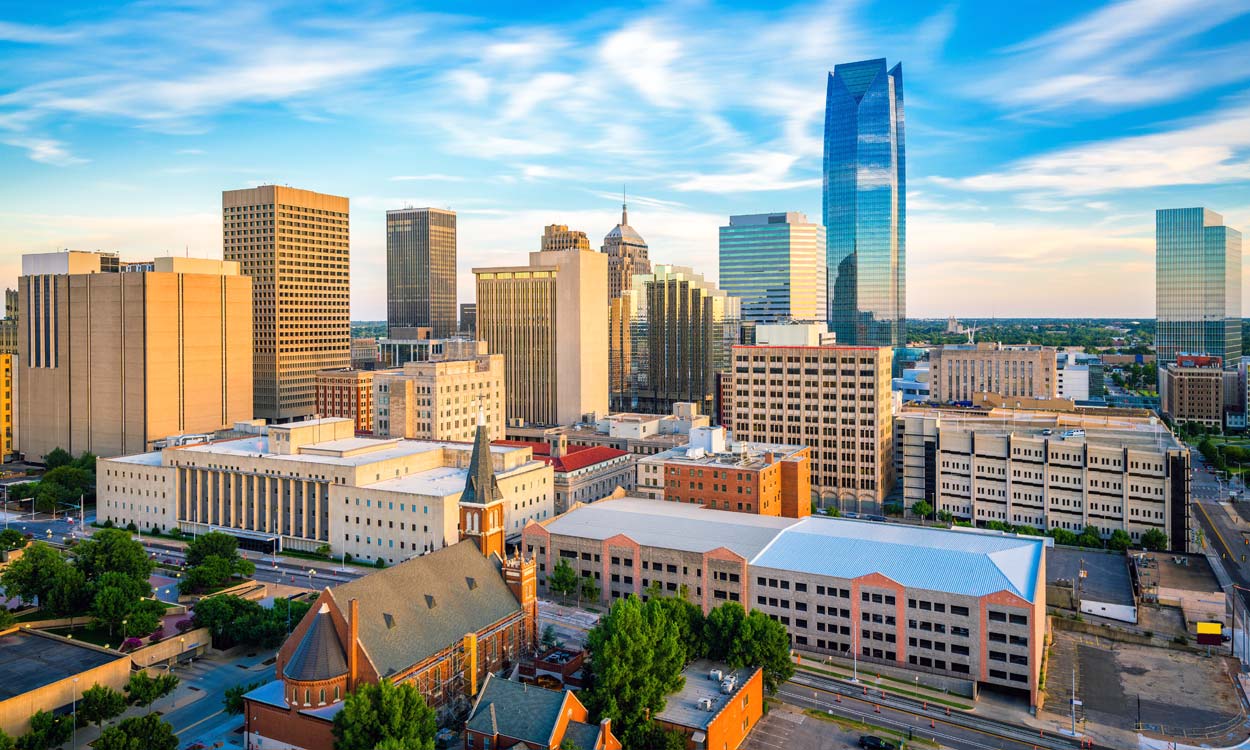 Buy affordable workers'

compensation online in less

than 5 minutes
No paperwork.
Instant coverage.
No-commitment quote.
Oklahoma workers' compensation laws
The first thing you should know about workman's comp in Oklahoma is that it's required. Every Oklahoma small business that employs at least one employee must have a workers' comp policy in place. It doesn't matter if your employees are part-time or full-time, either; pretty much any employee counts (although there are some exceptions for agricultural employees and certain independent contractors). And if you don't purchase workers' compensation insurance for your business, there are some serious consequences: the state of Oklahoma can fine you up to $1,000. Per day. (They aren't messing around.)
Basically, if you own a small business in Oklahoma with at least one employee, then you need to carry workers' comp. It's the law. And it's really simple to get insured with Huckleberry, too. Most small businesses in Oklahoma get the Huckleberry insurance they need in about 5 minutes, and everything is online and easy. Get a super-fast estimate on what you'd pay for workers' comp with our 60-second insurance rate calculator.
How much does workers' compensation cost in Oklahoma?
Oklahoma workers' compensation rates depend on a bunch of variables that will be different for each business. Your industry, your safety record, and even your location all play a role in how much you'll pay. But the biggest factor that will affect your rate—by far—is the size of your payroll. The more employees you have, the more likely it is that one of them will eventually need to use a workers' comp benefit. So a business with 100 employees will pay far more for workers' comp than a business with only three.
So, what will you pay for workman's comp? Well, the median premium cost that Oklahomans have paid is $1,352 per year. That's only a statistic, though. Huckleberry customers in Oklahoma have paid as little as $385 per year—which amounts to just over a dollar per day and is certainly less expensive than the cost of a lawsuit.
In the end, the best way to get a ballpark estimate for what your workers' comp might cost is to try our 60-second rate calculator. It's fast and free.
Workers' comp coverage and exemptions
First off, Oklahoma workers' compensation insurance pays for medical expenses, lost wages, and physical rehabilitation if a member of your team ever gets sick or injured because of their job. It can also cover out-of-pocket expenses, continued medical maintenance, and vocational training (if your employee isn't able to return to their old job after the medical incident).
Let's say, for example, that one of your employees gets a serious spinal injury from lifting a heavy piece of equipment at work. Your workman's comp coverage would pay out for that employee's visits to the doctor and any necessary physical therapy. And if the injury was serious enough to keep your employee at home for a while, workers' comp would also reimburse them for a portion of their lost wages (usually 70% of their former weekly wage, up to a maximum dollar amount which is set by the state and changes every year).
So this coverage is a pretty useful coverage for your employees, and it provides important protection for you, too—you definitely don't want to foot the bill for a major injury and all the costs associated.
Now what about Oklahoma workers' compensation exemptions? First, know that just about everyone on your team will be covered by your policy—and that's a good thing. That said, there are some possible exemptions for agricultural or horticultural workers as well as for business partners and stockholders (if they own enough stock). Independent contractors who do casual work for your company usually don't need to be covered under workers' comp. And if you run a family business with fewer than 5 employees—and all employees are related to you by blood or marriage—you may not need to purchase workers' comp. (But you should definitely check with your online business insurance company before you assume anything.)
Top industries we serve in Oklahoma
Landscaping & Lawn Care
Commercial Cleaning
Heating & Air Conditioning
4 reasons why business owners in Oklahoma love Huckleberry
You can get covered in 5 minutes. (95% of Oklahoma small business owners do.)
You'll likely pay significantly less.
It's simple to use and understand.
Everything you need is online and easily available.
Common Q&A about Oklahoma workers' compensation
Nope. If you run your business on your own and you never hire anyone else to help you, you don't have to purchase workman's comp in Oklahoma. (That said, if you'd like to get coverage for yourself, you may be able to get it in certain situations.)

There are some sizable penalties for going without workman's comp in Oklahoma. According to Oklahoma workers' comp rules, the state has the power to fine you $1,000 per day if they catch you running your business without insurance. That could be a very large bill. And if you don't (or can't) pay the penalty, your business may be prohibited from employing anyone—by court order—until you've paid your fines and secured workers' comp coverage for your business.

There's also the matter of your legal responsibility to your employees. If you go without this coverage, you'll be liable for the cost of any injuries or illnesses they suffer because of their job, and that cost could range from a few thousand dollars for a minor injury to millions of dollars for a catastrophic accident. You won't have any control over the bill, but you will be responsible for paying it. Whether you can afford to or not.

Long story short: going without workers comp is a huge risk and ultimately not worth it. Especially since you can get workers' comp in less than 5 minutes.

Absolutely! Any member of your team could get injured at any time, so your workers' comp policy is designed to cover everyone—part-time and full-time.
Don't take our word for it
Get a quote in five minutes.
Everything's online. Everything's easy. Tap the button to get started.