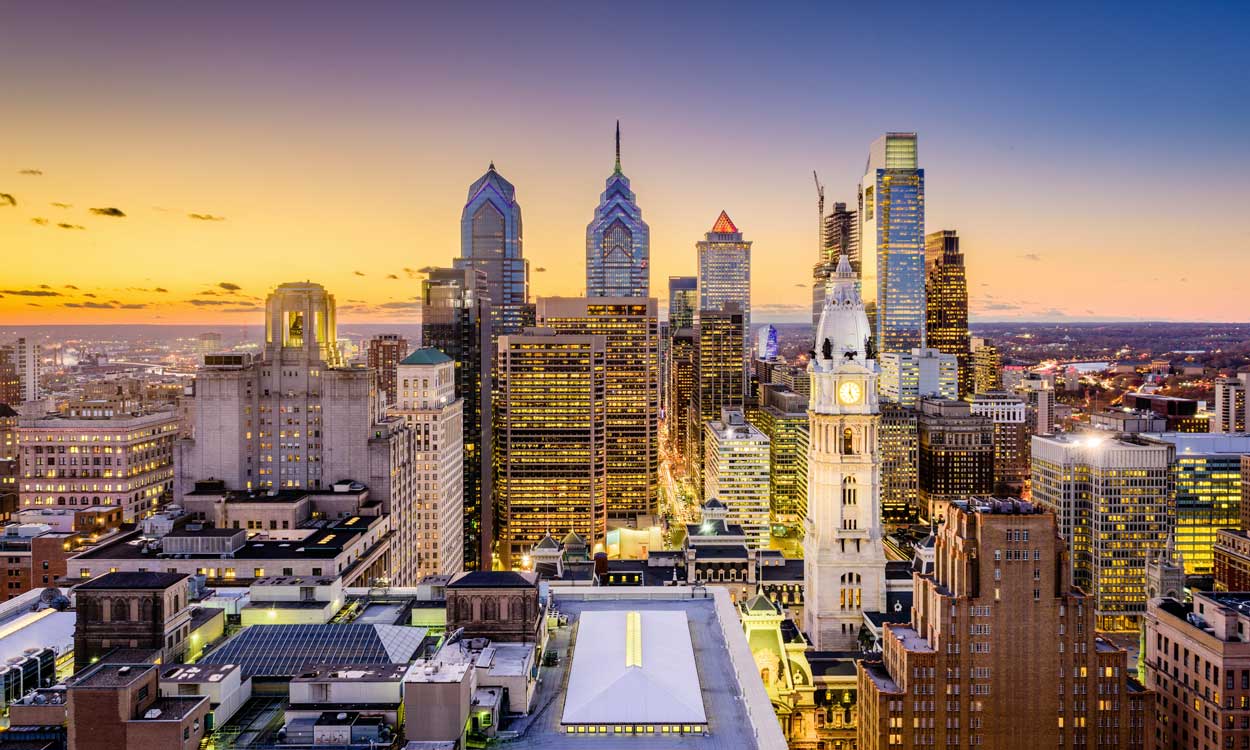 Buy affordable workers'

compensation online in less

than 5 minutes
No paperwork.
Instant coverage.
No-commitment quote.
Pennsylvania workers' compensation law
Is workers' comp insurance required in Pennsylvania? Yes. If you have at least one employee on your payroll, you're required to carry a workers' comp policy. The details of the employment don't really matter, either. Your employee could be full-time, part-time, or seasonal, and the mandate would still apply. And if you don't purchase the legally required coverage? You could face thousands of dollars in penalties and might even face major legal action from the State of Pennsylvania.
In short? Every small business which has at least one employee (besides the owner) needs workers' compensation insurance. Getting covered provides valuable protection for your team and is just the right thing to do. See what you might pay for Huckleberry workers' comp here. (It's completely online and takes 60 seconds.)
How much do Pennsylvanians pay for workers' comp?
Your rate for Pennsylvania workers' comp depends on quite a few factors, such as the kind of business you run, the strength of your safety record, and where you're located. That said, the number one factor for determining your rate is the size of your payroll. The bigger your payroll, the more employees you have. And the more employees you have, the bigger the risk that one of them will get injured at work.
The big question, of course, is what you will pay for workers' comp. The median premium cost that Huckleberry customers pay is $989 per year. But rates in Pennsylvania have been as low as $375 per year—about a dollar a day. Your rate depends completely on your unique situation, though, so the only way to find out what you might pay is to get a 60-second workers' comp estimate here.
Workers' comp coverage and exemptions
Broadly speaking, workers' comp covers medical bills and wages lost because of an injury on the job (or because of a work-related illness). In Pennsylvania, workers' comp will also pay out for a pre-existing condition that's worsened by the job or an occupational disease that can be traced back to a workplace environmental toxin. There's technically no limit to a workers' comp policy, either—a really serious injury which results in a permanent disability might result in a lifelong financial payout.
Workers' comp covers a lot of situations but it doesn't cover everything. For example, it won't cover accidents that happen on your employees' commutes, and it won't cover work injuries that occur because your employees were under the influence of alcohol or illegal drugs. (Moral of the story: keep an eye out for signs of problem behavior.)
Is anyone exempt from your Pennsylvania workers' comp policy? Maybe. You're not required to purchase workers' comp for yourself, and, if you have a business partner, they're automatically excluded from coverage, too (unless they request to be included). Also, if your business happens to be organized as a corporation, you can fill out a series of forms to exclude your executive officers. But, in general, you'll purchase a policy that covers all of your employees. (And that's a good thing! Workers' comp is necessary protection for everyone.)
Top industries we serve in Pennsylvania
Landscaping & Lawn Care
Commercial Cleaning
Heating & Air Conditioning
4 reasons why business owners in Pennsylvania love Huckleberry
It's fast. 95% of our customers get the workers' comp coverage they need in five minutes.
No paperwork. You'll do everything through our easy online portal.
It's simple. We explain everything in plain English.
You'll probably pay less. (Maybe a lot less.)
Common questions about workers' compensation
That depends on your answer to one simple question: do you ever hire anyone? If the answer is yes, you need workers' comp. In Pennsylvania, it's legally required for every business which has at least one employee (even if that employee is seasonal or only part-time).

If you go without workers' comp in Pennsylvania, you should know that you're taking a serious financial and legal risk. Operating your business without workers' comp is a criminal offense in Pennsylvania, and—if you're caught—you'll face the prospect of lawsuits and large financial penalties (each day that you go without coverage is considered a separate offense!). Also, when you go without workers' compensation coverage, you're essentially agreeing to be responsible for the cost of your employees' illnesses, injuries, or lost wages. That means you'll pay out-of-pocket for hospital bills, rehabilitation costs, and even ongoing financial support if your employee is unable to return to work.

All of these consequences are very expensive—and any one of them could tank your business.

Ultimately, going without workers' comp isn't worth the risk to your business or to your team. Get workers' comp now in about 5 minutes.

Absolutely. Part-time workers can get injured, too.
Don't take our word for it
Get a quote in five minutes.
Everything's online. Everything's easy. Tap the button to get started.