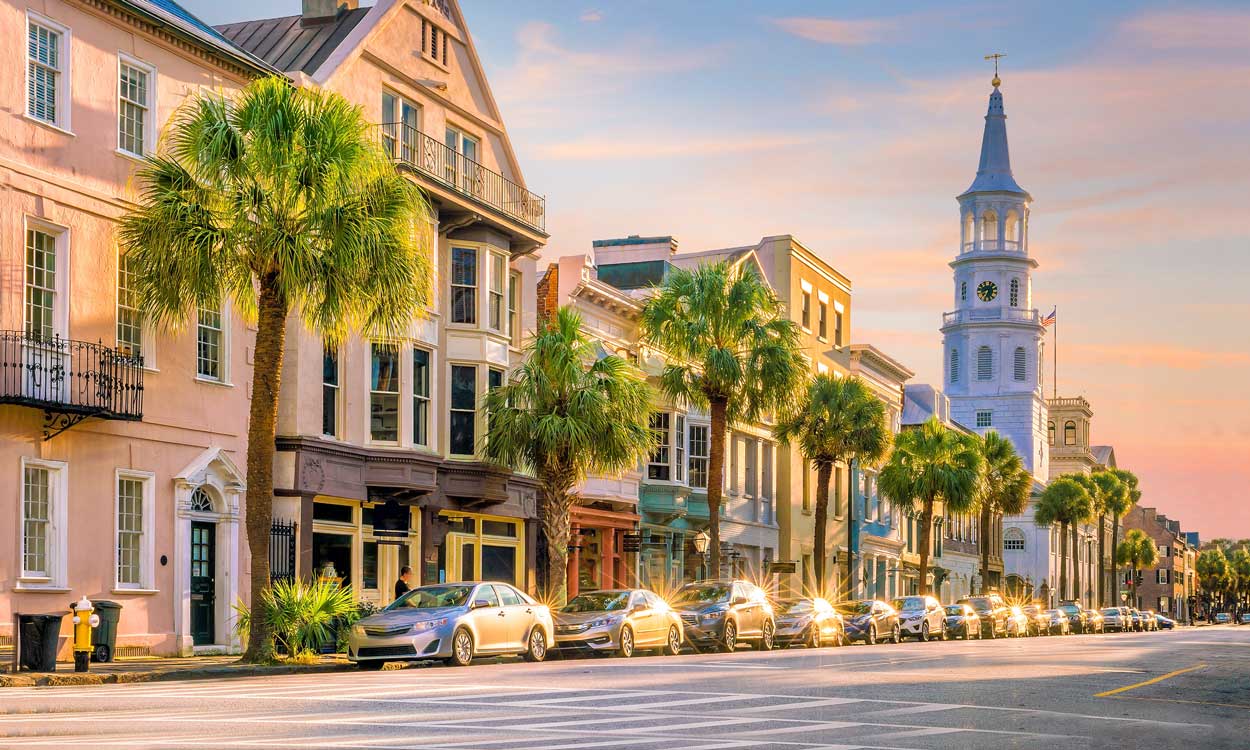 Buy affordable workers'

compensation online in less

than 5 minutes
No paperwork.
Instant coverage.
No-commitment quote.
South Carolina workers' compensation laws
Does South Carolina require workers' compensation insurance? The simple answer is yes—but it's actually a little more complicated than that. In South Carolina, you're required to purchase workers' comp if you meet both of the following requirements:
You hire at least four workers (full-time or part-time).
Your annual payroll is $3,000 or more.
If both of those statements describe your company, then the State of Carolina expects you to get workers' compensation insurance (if you don't, you could be subject to fines and even jail time).
It's important to know, though, that even if your company doesn't meet the requirements, workers' comp might still be a good idea. To see why, let's look at an example. Let's say you run a small lawn care business and that you hire two only part-time workers during the busy season. You're not required to purchase South Carolina workers' compensation, so you don't. Then, one day, you get an urgent call from a client—your employee had a run-in with a piece of machinery while on the job and is on the way to the hospital right now. Three days and an emergency surgery later, your employee is released from the hospital with a heavily-bandaged leg—and a stack of medical bills totaling over $90,000.
If you don't have workers' comp, you are now responsible for paying that bill, as well as all forthcoming bills that relate to your employee's injury, including any rehabilitation and physical therapy costs. Your final bill could be hundreds of thousands of dollars.
That's just one example of why workers' comp is a great idea, even if South Carolina's workers' compensation law doesn't technically mandate it for your business. It's an important coverage that could quite literally save your business from a catastrophic bill or lawsuit. (Plus, it's the right thing to do for your employees.)
(See what you might pay for Huckleberry workers' comp. It only takes 60 seconds.)
How much is workers' compensation in South Carolina?
The cost for workers' comp in South Carolina is based on a combination of factors, such as what kind of business you run, where you're located, and your overall safety record. But the biggest factor—by far—is the size of your payroll. The bigger your payroll and the more employees you have, the higher your risk of a workplace injury (and the more you'll pay for workers' comp).
So that's the formula. The bigger question, though, is what you would pay for workers' comp. In South Carolina, the median premium cost that Huckleberry customers pay is $1,125 per year. But Huckleberry Insurance customers have also paid as low as $500 per year for their coverage—so your rate depends entirely on your situation. (The easiest way to find out what you might pay is to get a 60-second estimate here.)
Workers' comp coverage and exemptions
Workers' comp pays for medical bills and lost wages if one of your employees has a medical problem related to their job. For example, a worker might claim workers' comp benefits if they strain their back on the job by lifting a heavy box—or if they get an illness brought on by chemical exposure at your workplace. Workers' comp will also pay out to partly reimburse the injured employee for income lost due to the illness or injury (and will even pay death benefits if the worst happens). So it's a pretty broad insurance coverage and covers most medical issues related to work.
That said, workers comp won't cover everything. For example, it won't pay for medical problems that don't have some kind of physical component. (Stress and mental illness, for example, aren't usually covered by workers comp—unless there's very clear proof that they were caused by an employee's job.
What about exemptions to the workers' comp requirement? Technically, your small business isn't required to carry workers' comp insurance if you have fewer than four employees. Also, if you're a sole proprietor, you'll automatically be excluded from your company's coverage (unless you explicitly opt in). Business partners and LLC members are automatically excluded from coverage, too, and if you've incorporated your business, you can choose to exclude your executive officers. Other than that, your workers' comp policy will cover your whole team. (And that makes sense. Workers' comp is necessary protection for everyone.)
Top industries we serve in South Carolina
Landscaping & Lawn Care
Commercial Cleaning
Heating & Air Conditioning
4 reasons why business owners love Huckleberry
You'll probably pay less. (Maybe a lot less.)
It's fast. 95% of our customers get the workers' comp coverage they need in five minutes.
No paperwork. Everything is online and easy.
It's simple. Everything is in plain English.
Q&A about South Carolina workers' compensation requirements
It depends on how many people you hire. If you run a true one-person show—that is, it's just you doing everything and you never hire anyone else—then you likely don't need workers' compensation insurance in SC.

If you hire at least four people, though, then you're responsible for getting workers' comp for your team.

If you go without workers' comp in South Carolina, you're putting your business and finances at risk. Essentially, you're agreeing to be held financially accountable for the cost of any illness or injury that happens to your employees because they work for you. That means you'll be legally responsible for paying all the bills—from medical treatment and physical therapy to rehabilitation and ongoing financial support (if the injury is serious enough).

In short, it can be extremely expensive to go without workers' comp. Going uninsured just isn't worth the risk to your small or to your team. Get workers' comp now in about 5 minutes.

Definitely, if your business meets the criteria otherwise. Part-time workers get injured, too. The rule of thumb: if you have at least four employees—full- or part-time—your small business is required to get workers' compensation.
Don't take our word for it
Get a quote in five minutes.
Everything's online. Everything's easy. Tap the button to get started.