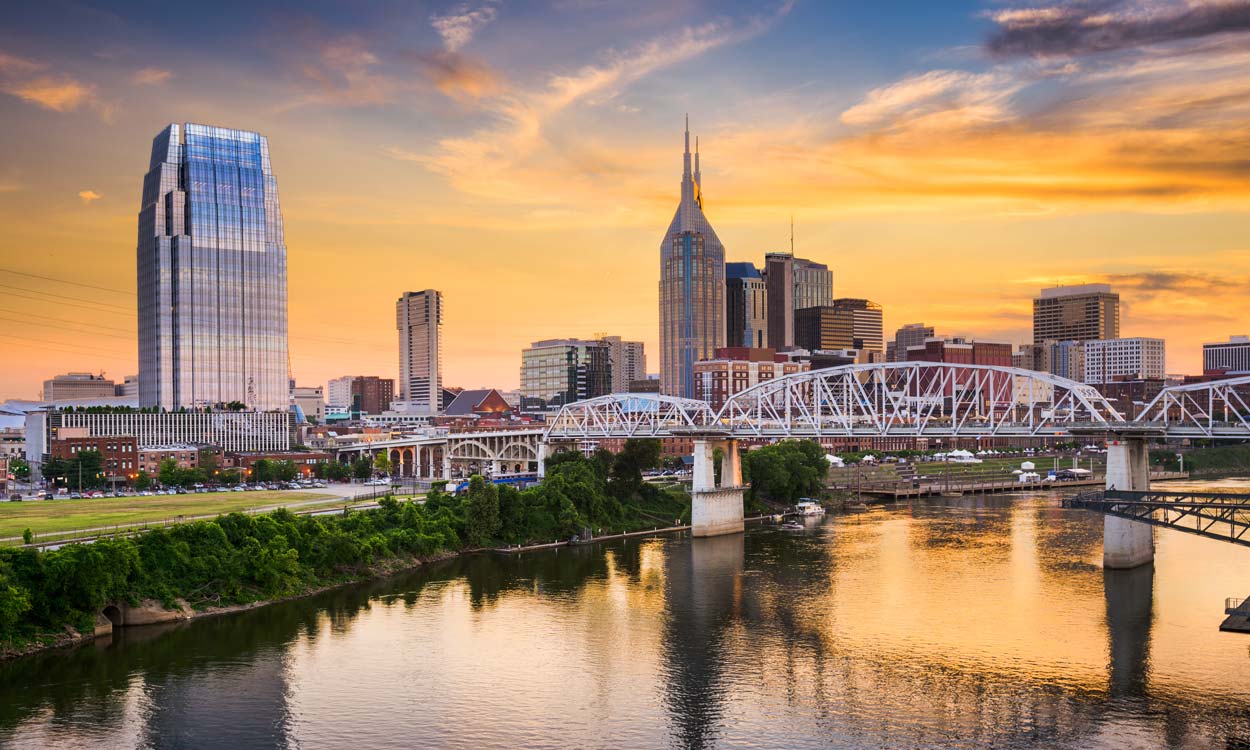 Buy affordable workers'

compensation online in less

than 5 minutes
No paperwork.
Instant coverage.
No-commitment quote.
Tennessee workers' compensation law
How does workers' comp work in Tennessee? The main thing to know about workers' compensation insurance in The Volunteer State is that it's required by law—as long as your small business employs at least five people. Your five employees don't have to be full-time to trigger the workers' comp requirement, either—part-time employees count toward the minimum (even if they're corporate officers or family members). And if you choose to ignore the law and go without a workman's comp policy, you could be subject to some pretty significant fines from the state of Tennessee. (More on that later.)
What if you don't employ enough people to qualify for the workers' comp requirements? Consider getting insured anyway—especially since this coverage protects you as well as your employees. Without it, you'll be liable for any job-related injury or illnesses, and the associated costs could run into the hundreds of thousands of dollars. (Think about the worst hospital bill you've ever heard of—and then imagine that bill showing up in your company's mailbox. It can happen.) It's not just about medical costs, either. Injured employees can file lawsuits against their employers, and fighting the lawsuit can take a lot of time and resources.
Ultimately, if you run a small business in Tennessee, there's a good chance that you need workers' comp, and it's super easy to purchase from Huckleberry. You can even get a quick cost estimate from our 60-second workers' comp calculator.
How much is workers' comp insurance in Tennessee?
Okay, let's talk about workers' comp costs. First, the median premium amount that Tennessee customers pay for workers' comp is $932—but rates vary a lot, and the cost of your insurance coverage will depend mostly on the size of your payroll. The more employees you have on staff, the more you'll pay for workers' comp. And insurers also take a look at other variables, such as your safety record, your industry, and your location.
TL;DR? A one-size-fits-all answer is impossible to give, because your rate depends on your situation. But you should know that Huckleberry customers in Tennessee have paid as low as $391 per year for their workers' comp, which is only a little over a dollar per day. (And you can see what you'd pay pretty quickly, by getting a 60-second business insurance estimate at our insurance rate calculator.)
Tennessee workers' compensation coverage and exemptions
Workers' comp insurance pays for medical costs and lost wages if a member of your team ever gets sick or injured because of their job. It covers incidences that are obviously work-related (such as an accident on the job) as well as medical issues which you might not automatically connect with work (such as a back injury that's inflamed by repetitive motion). Basically, when an employee gets injured, your workers' comp insurer will show up with the resources and money necessary to help get that worker back on their feet. (And if an employee can't get back on the job quickly—or at all? Workers' comp can also pay out for ongoing treatment and financial support.)
Who's included in workers' comp coverage? According to Tennessee workers' compensation rules, your policy will cover just about everyone on your team. And that's a good thing. That said, sole proprietors and LLC partners are not required to insure themselves and corporate officers can also choose to exempt themselves from their workers' comp policy. (The exception to both of those statements is if the business in question is a construction company. In that case, everyone needs to have coverage.)
An important note about exemptions, too: If you do choose to exempt eligible members of your team from your policy, they'll still count toward your five-employee minimum—you can't "exempt" your way out of that.
Top industries we serve in Tennessee
Landscaping & Lawn Care
Commercial Cleaning
Heating & Air Conditioning
4 reasons why business owners in Tennessee love Huckleberry
It's so fast. 95% of small businesses in Tennessee are insured in 5 minutes.
You'll likely pay less.
It's easy. We explain everything simply.
It's online. There's no paperwork.
Common Q&A about Tennessee workers' compensation
No—if you're the only person who works at your business, you don't have to purchase workers' comp insurance in Tennessee. But as soon as you employ at least five people, you'll need to start looking for coverage. It's the law.

First, the official penalty. If the State of Tennessee catches you without workers' comp coverage, they have the power to fine you up to 1.5x the amount you would have paid in workers' comp premiums—for the whole year. It's a pretty hefty fine.

But even if you don't get fined, going without workers' comp is an awful idea. Without coverage, you'll be legally responsible for the cost of any injury or illness that happens to your employees because they work for you. So if a work accident happens, you're very likely to get sued in court—and the cost of lawyer bills and legal settlements can be astronomical (think: hundreds of thousands of dollars or more).

Ultimately, workers' comp protects you as much as it does your employees, and going without it just isn't worth the risk—to your business or your team. (Especially since you can get workers' comp coverage in less than 5 minutes.

Definitely. If you have at least five employees, workers' comp is required—it doesn't matter whether they're full-time or part-time.
Don't take our word for it
Get a quote in five minutes.
Everything's online. Everything's easy. Tap the button to get started.