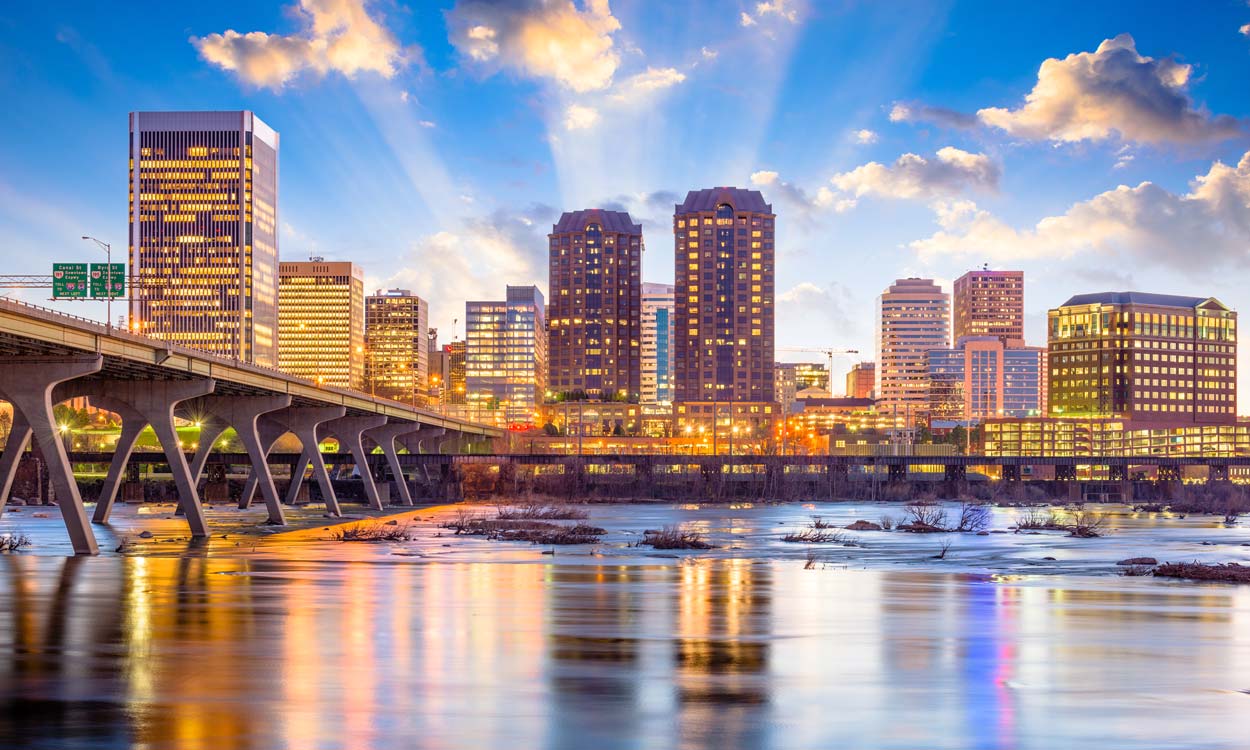 Buy affordable workers'

compensation online in less

than 5 minutes
No paperwork.
Instant coverage.
No-commitment quote.
Virginia workers' compensation rules
Let's talk about Virginia workers' compensation requirements. The most important thing to know is that VA workers' comp is required for every business that hires at least two employees. And the term "employee" is defined pretty broadly. It includes both full-time and part-time workers as well as executive officers and some subcontractors. So—long story short—the state of Virginia really wants you to get this coverage, and if you ever hire anyone other than yourself, there's a good chance your business is required to have workers' compensation insurance to operate legally.
But what if you decide not to get workman's comp in VA (or if you just forget)? First, there are some pretty severe financial consequences. For every day that you go uninsured, you'll be required to pay a $250 fine—up to a maximum of $50,000. That's not to mention the financial risk to your business when an uninsured employee gets injured. If one of your employees ever develops a medical issue from their job, you and your business will be responsible for paying the cost of their medical bills, rehabilitation, and lost wages. Plus, your employee will be able to sue you in court for damages—and the cost for those lawsuits can go into the hundreds of thousands of dollars—or more. (Yes, it can be that bad.)
In short, workers' comp is important, it protects everyone, and—here's the lucky part—it's super easy to get from Huckleberry. The process is online and easy and you can get your small business covered in about 5 minutes. Try our 60-second insurance rate calculator to see what you might pay for workers' comp.
How much does workers' compensation cost in Virginia?
First, know that your rate for Virginia workers' compensation depends on a variety of factors, such as what industry you're in, how clean your safety record is, and where you're located. But the biggest factor in your rate is the size of your payroll. That makes sense, too, if you think about it: The more employees you have, the more likely it is that one of them will eventually need a workers' comp benefit.
That's the big picture regarding workers' comp cost, but what will your small business pay for workers' comp? The median cost that our Virginia customers have paid is $915.50 per year, but Huckleberry customers have gotten coverage for as little as $469 per year (only a bit over a dollar per day).
In any case, the fastest way to find out what your workman's comp would cost is to grab a 60-second estimate here. It's online and all the questions are easy.
Workers' comp coverage and exemptions
How does workers' compensation work in Virginia? First, it pays out for medical expenses and lost wages if one of your employees ever develops a medical problem because of their job. For example, let's say one of your employees develops a serious spinal issue from repeatedly lifting heavy objects at work. Once they report the injury, workman's comp will step in to pay for their visits to the doctor and physical rehabilitation (as well as a portion of any lost wages, if the injured employee has to miss work). Basically, workers' comp provides the resources your employee will need to get healthy and back on their feet.
But it's important to know this coverage protects you and your business, too. Without it, you'd be liable for paying the costs of any illnesses or injuries that happen to your employees because of their work. And while those bills could get very costly on their own, what's likely to be even more expensive is the cost of a lawsuit on behalf of an injured employee. So workman's compensation coverage is really an important safeguard for everyone.
Finally, let's talk about exactly who is covered by your Virginia workman's compensation policy. The short answer: everyone. If your company is required to carry workers' comp—that is, your business has at least two employees—then everyone on the team will automatically be covered. The only kinds of employees that can apply for exemption are executive officers and LLC managers. Everyone else is automatically included in the policy (including corporate officers and any member of the LLC that performs work and gets paid by the company).
Top industries we serve in Virginia
Landscaping & Lawn Care
Commercial Cleaning
Heating & Air Conditioning
4 reasons why business owners in Virginia love Huckleberry
95% of Virginia small business owners get the coverage they need in 5 minutes.
You'll likely pay less.
We explain everything in simple English.
Everything is online. Everything is easy.
Q&A about Virginia workers' compensation requirements
According to Virginia workers' compensation laws, probably not—as long as you're truly a one-person business. Only businesses with two or more employees are required to get coverage.

If your business meets the legal minimum of two employees, it's a really bad idea to neglect getting workers' comp. For one thing, you could be fined up to $50,000 by the state (that's $250 per day for every day you go without coverage). You'll also be held responsible for the cost of any injuries that your employees sustain on the job. And we probably don't need to tell you how expensive a financial settlement could be if you're sued, which is a definite possibility if you don't carry workman's comp insurance.

In short, going uninsured isn't worth the risk. Especially when you can get VA workers' compensation in less than 5 minutes.

Absolutely! Part-time employees can get injured, too, so according to workers' compensation insurance requirements in Virginia, you'll need to get coverage for them.
Don't take our word for it
Get a quote in five minutes.
Everything's online. Everything's easy. Tap the button to get started.